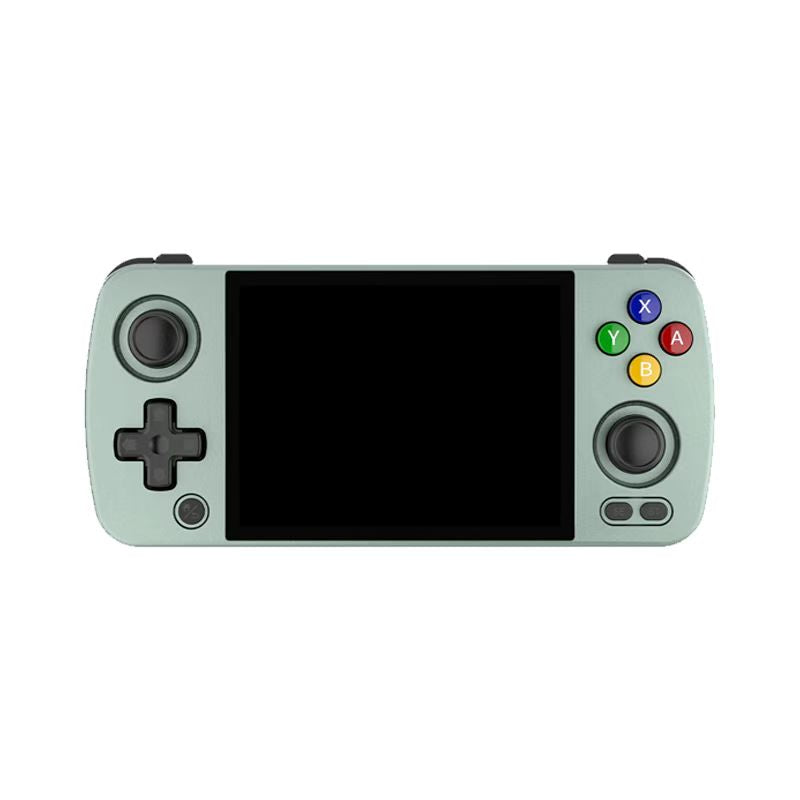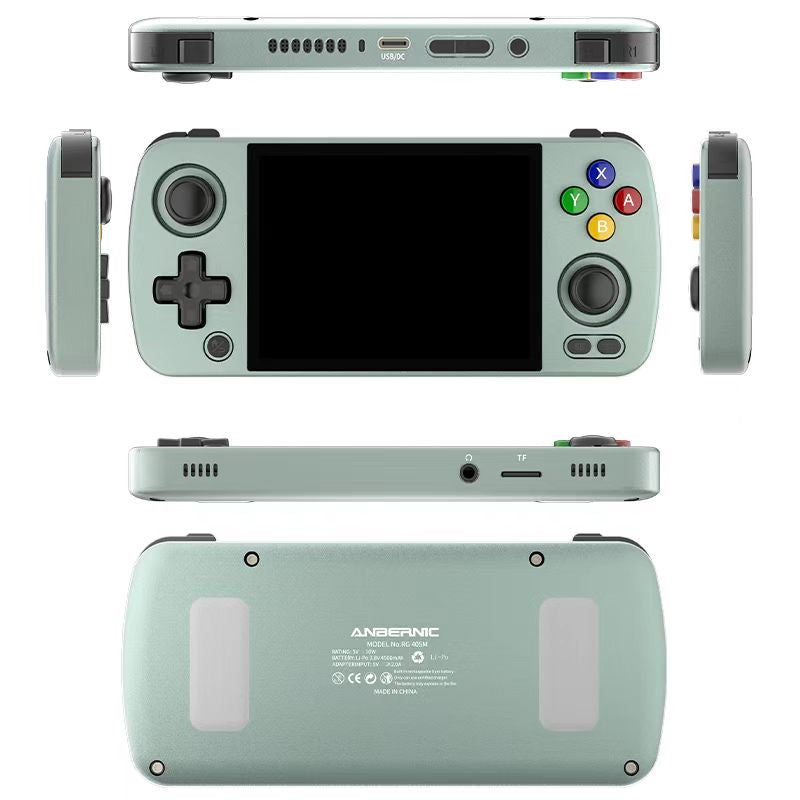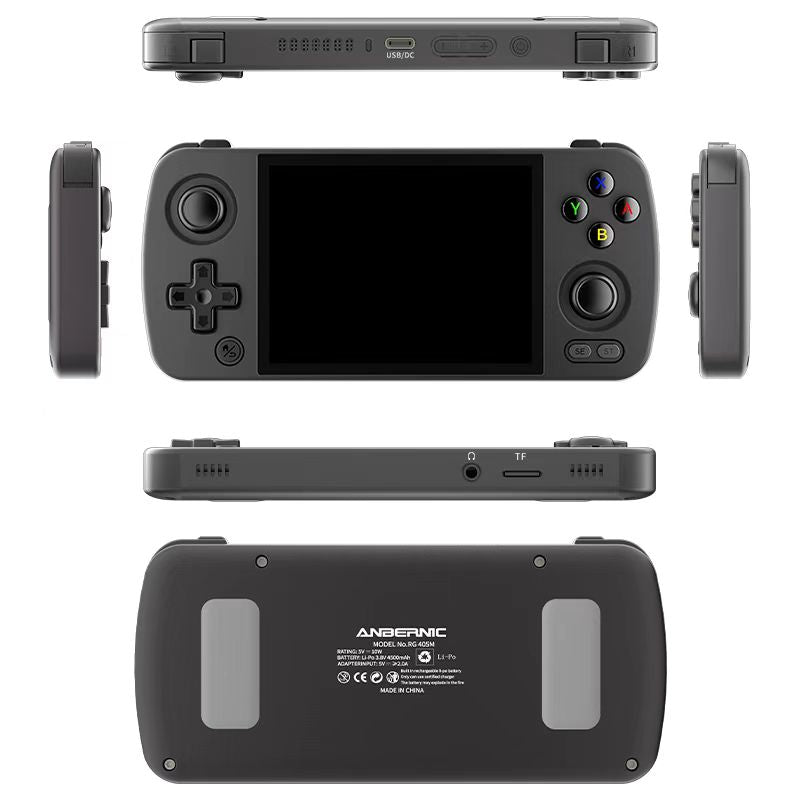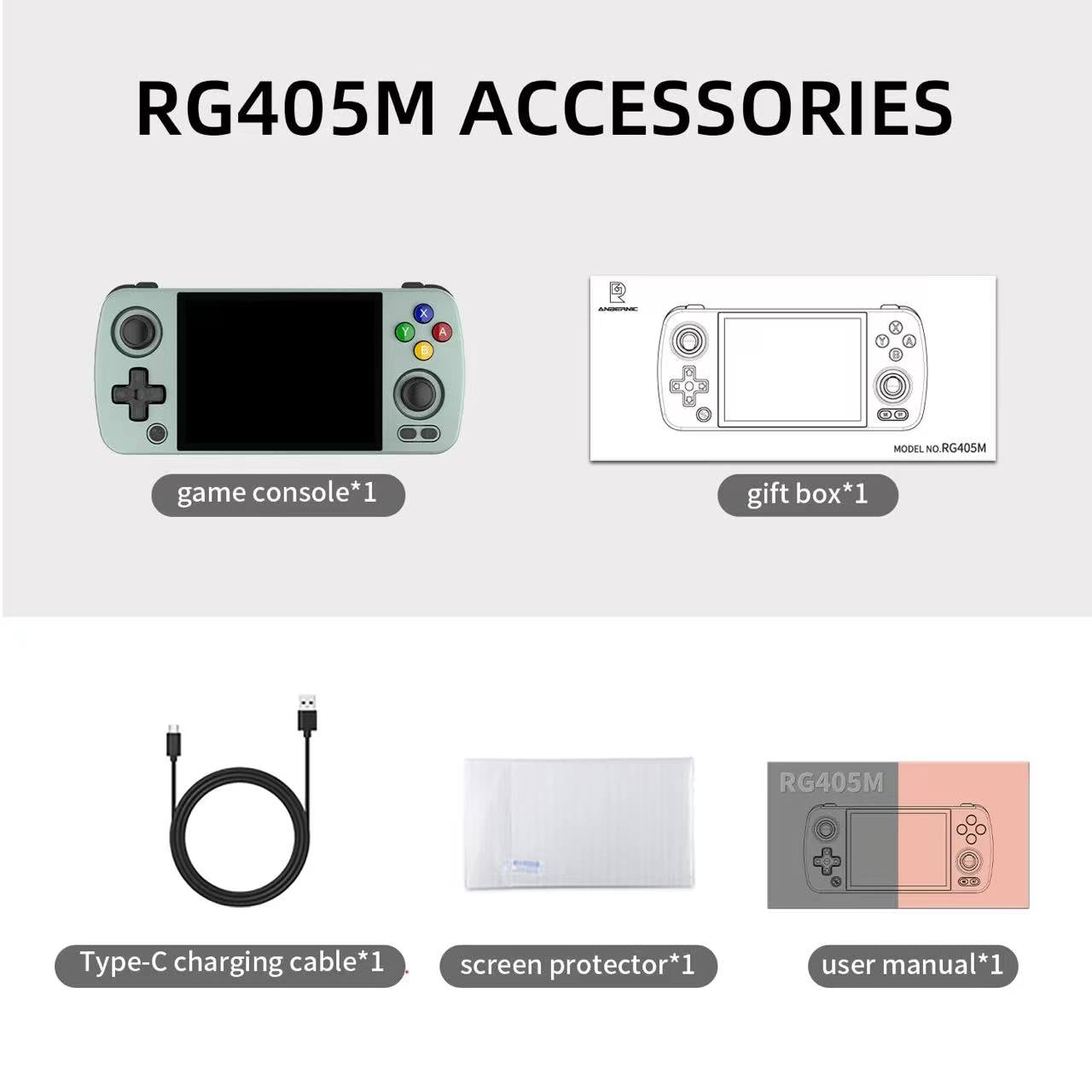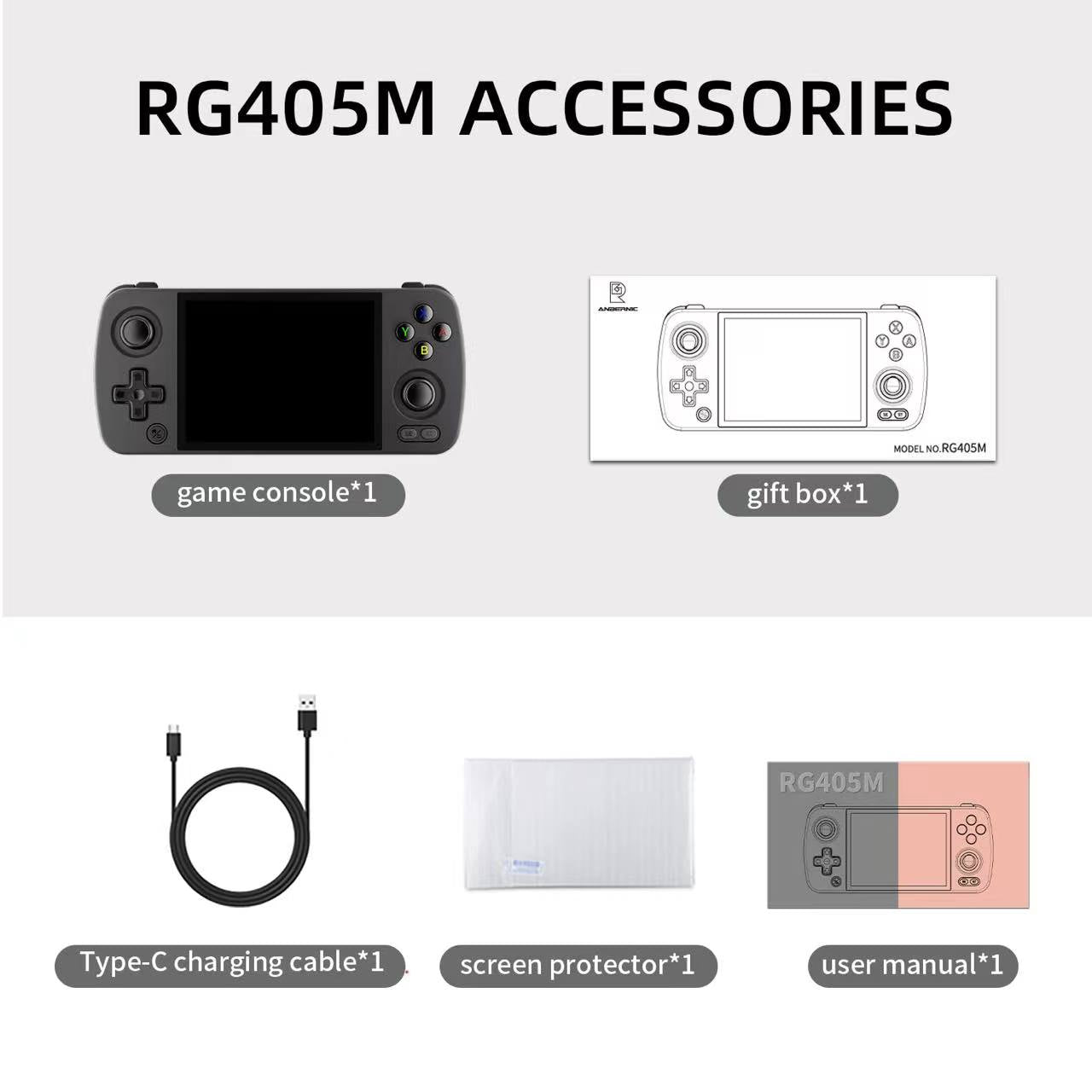 NEW ANBERNIC RG405M
---


*RG405M latest system version V1.18
1.Optimize system
2.Optimize emulator frontend


RG405M TECHNICAL SPECIFICATION

Color
Black /Grey
Material
Aluminum alloy CNC process
Screen

The 4-inch IPS touch screen,resolution 640*480

CPU

Unisoc Tiger T618 64-bit octa-core 2*A75@2.0GHz+6*A55@2.0GHz

GPU
Mali G52@850Mhz
RAM
4GB LPDDR4X@1866Mhz
Storage
128GB eMMC
TF card
Standard Version(memory configuration:4G DDR4+128G eMMC)-(no game sd card) 

;


Standard Version(memory configuration:4G DDR4+128G eMMC)+128G (compatible 3172 games) ;
Standard Version(memory configuration:4G DDR4+128G eMMC)+256G (compatible 4267 games)
WIFI/ 
Bluetooth


2.4/5G WIFI 802.11a/b/g/n/ac,Bluetooth 5.0

System

Android 12

Games
Support Android games, support 20+ kinds of simulator.
Support users to download games in relevant formats
Software

Built-in 

game front-end

Language
Multilanguage
Speaker
Hi-fi speaker
Battery

Li-polymer battery 4500 mAh, charging 2hours, battery life 7 hours

TF card
Support TF card expansion, up to 2TB
Other function

Built-in 

Hall joystick, six-axis gyroscope sensor

, support 

OTA wireless upgrade, online matchmaking, streaming, wireless projection screen

, vibration motor,
support 3.5mm stereo earphones,
energy saving setting, display brightness and other functional properties settings
Accessories
USB charging cable, giftbox , user manual, screen protector
Box 
specification

length 21.5cm
width 10cm
height 3cm
weight 0.413kg
Console specification   
length 16.3cm
width 7.6cm
height 1.59cm
weight 0.260kg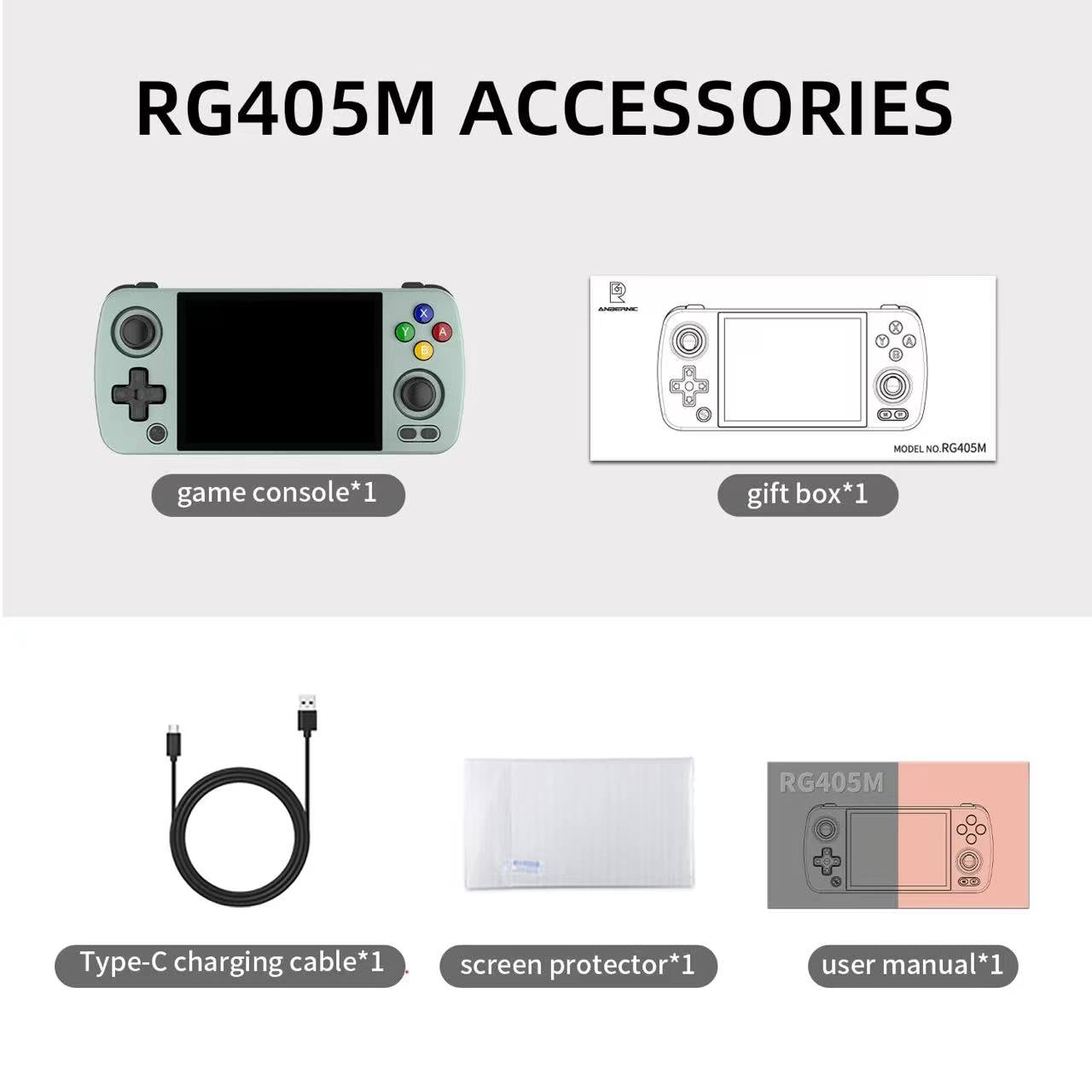 This product is rated 4.8 of 5.0 stars.
It has received 98 reviews.
Solid handheld with no need for compromises
It's smaller than you might expect, but big enough to be comfortable, once you get used to it.
Any games up to Dreamcast work as good, as the emulator does.
Brief tests on Dreamcast showed great results, but I haven't tried anything on heavier side yet.
General diversified is: you set it up once, then you just plug in the ROM you want to play and it works without hiccups
Ordering another one!
I obviously did some research before purchasing, but the RG405M is exactly what I was looking for. Small enough to keep in a small bag or fanny pack, but not lacking on quality. I love the feel of this device in the hand. It was my very first portable gaming device so the setup was a bit tedious, but once you get it loaded up, you won't get enough. I have to order another one because my sister can't stop playing mine! Anbernic for the W.
Likely the best Handheld
1st off; the shopping experience is positive, all the way through. No complaints there.
The Anbernic RG405M is everything a Handheld Device SHOULD BE; a simple & clean design, but with the right amount of functions;
Screen, Buttons, etc, on board
The metallic aluminum finish is luxurious in the hand, along with rubber grips on the backside, for better grip, as well as kerping the device from sliding around on a surface
I especially love how the metal feels, cold or warm to the touch, especially on hot or cold days
The Buttons all have the right sort of look & feel; comfortable to use, responsive, & easy on the eyes; contrasting from the black metal finish
The screen is noticeable, apart from the black metal, when turned off
When turned on; the screen is vibrant; &
Shows every detail in both Menus & Games;
I notice pixel Sprite textures & details I've never before seen on a Game's original system; like NES
The performance is fast, snappy; both in Menus & in Games
The Programs & Settings were complicated to me at 1st; but after some tinkering I was able to understand better, in the myriad Settings & Menus, the more I looked through said Menus & Settings - this applies to both the System & Games
Also, the fact it has Google Play; means a world of Apps are available; like Mega Man X Dive (or Rock Man X Dive) - were playable at full speed & smoothness - albiet with tiny text & lack of Controller support - the Touch Screen Controls just don't for such a game
The sounds & graphics are AMAZING on both the device's Menus & Games - I would test a Game, to see if it works; only to be enthralled to the Music on the Title Screen - music is a central part of any Game, especially older Retro Games
All the needed Features & Specs are here:
Wifi, Bluetooth, Touchscreen, Internal Memory of 128 gb - which was more than enough to store my entire ROMs Library; from NES, SNES, Sega Genesis, Game Boy, Game Boy Color, Game Boy Advance, MAME, TG-16, N64,
Neo Geo... even a few PC Games
& USB C Port
Any device lacking Wifi, Touch Screen, USB C,
Internal Memory of at least 64 gb or more;
(16 gb is as low as I'm willing to go, if the price is right)
I'm trying to figure out how to get more ROMs,
My Abandon Ware is a GREAT source
This all gives the device a premium look & feel;
Especially for the Price
I would say, that Anbernic RG405M is a top shelf item in its class, punching well above its weight
Side Note:
The RG505 has pretty much the exact same user interface as RG405M - which is good; because I'm given a Setup that is immediately familiar - so I know what to do, from the Start
Also - you can link up both RG405M & RG505,
via double ended USB C cables & adapters; &
Move or Copy Items back & forth between the 2 devices
Also, setting up the device is as simple as any
Portable Gaming device - just follow the on screen guide
I would 1000% recommend both Anbernic & their handhelds; especially RG405M & RG505
Awesome pawsome
super ultra mega cool man. build quality is excellent feels good in the hands as far as comfort while playing and just all around most excellent.
Outstanding!
I can't say anything bad for a first time buy! I mean I can play so many games I would have to say my favorite would have to be the PSP! It just runs so smoothly I can't put it down! Would recommend to anyone that wants to have a gaming device to just pick up and go! One critique I would say about the device would be the start up how I would put the UI in Game Mode instead of an annual Android startup for the average user. Otherwise than that it is a blast to have!