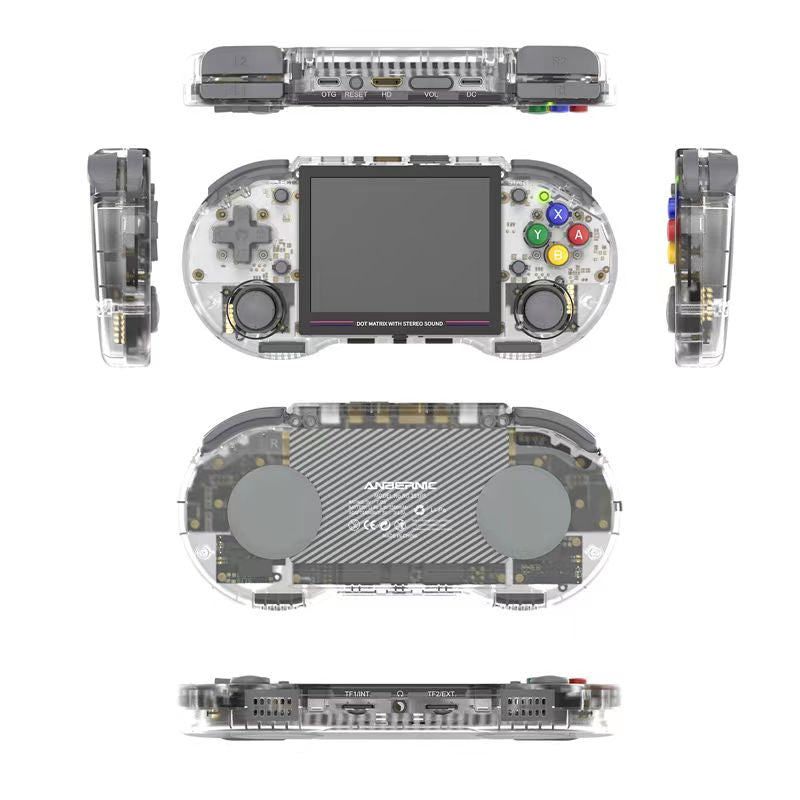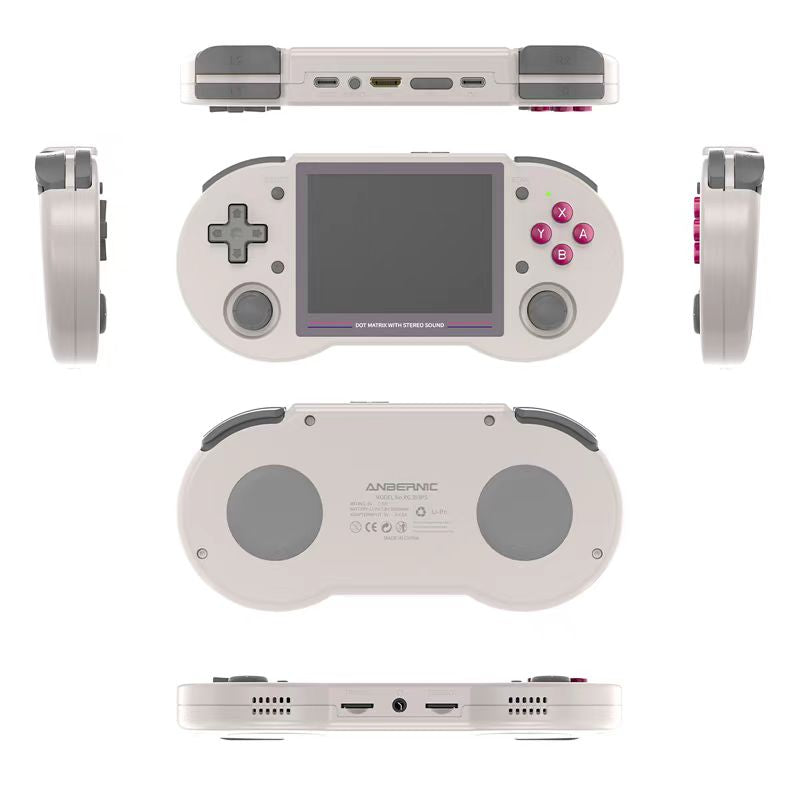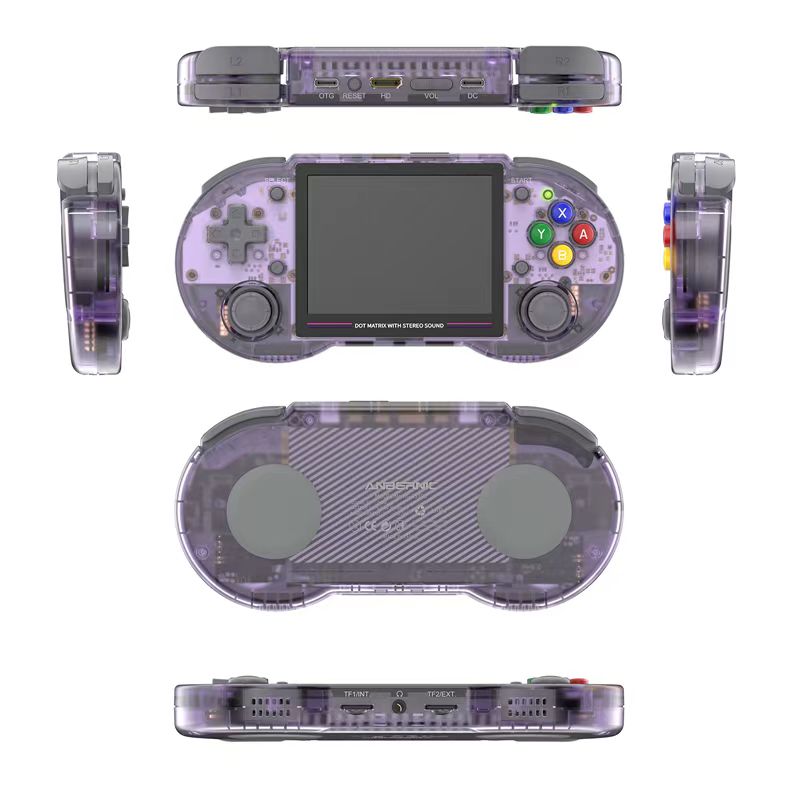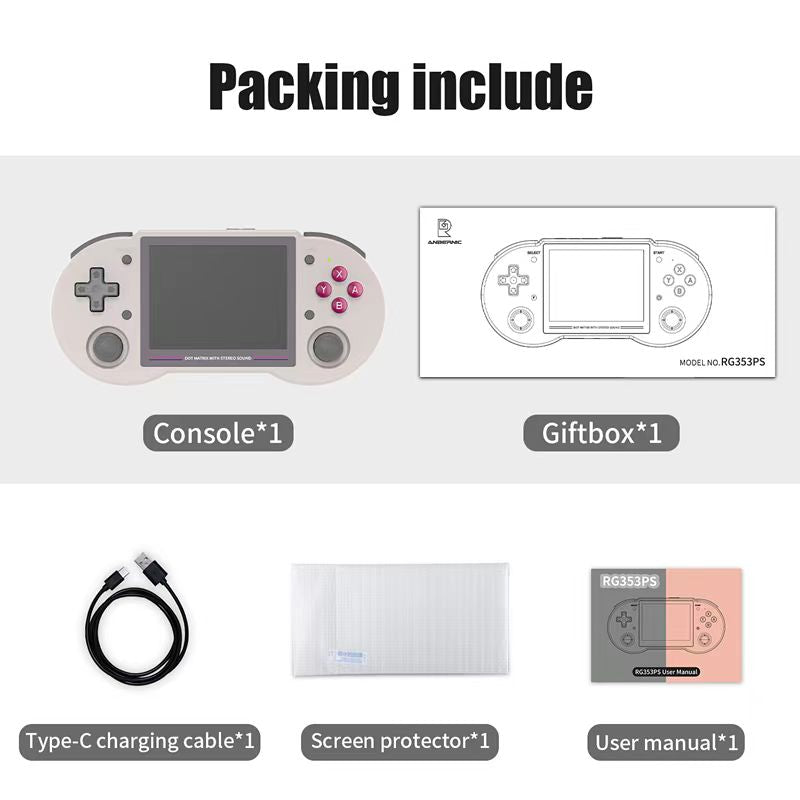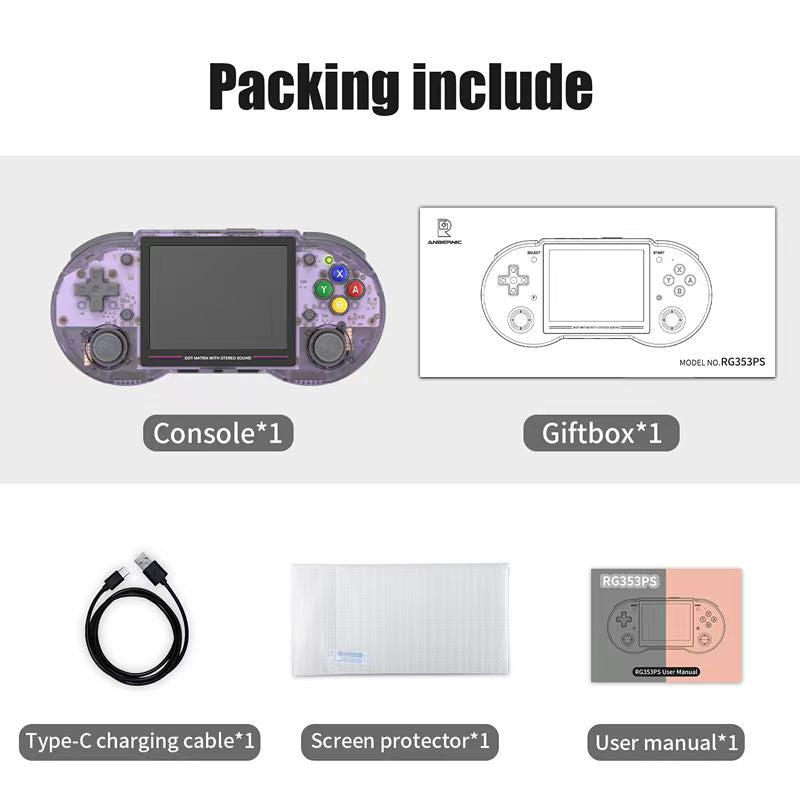 NEW ANBERNIC RG353PS
---
About the rg353ps
Exquisite appearance, comfortable feel, let you fondle admiringly.
Screen
3.5-inch IPS full viewing angle, zero distance OCA fullfit/ 640*480
CPU
RK3566 Quad-Core 64 bit Cortex-A55, Main frequency up to 1.8GHz
WIFI/Bluetooth
2.4/5G WIFI 802.11a/b/g/n/ac,Bluetooth 4.2
SD Card
16G (no game)  ; 16G+128G (compatible 4500+ games) ;16G+256G (compatible 4300+ games)
Games
Support 20+ kinds of simulator.
Software
Supports Bluetooth gamepad and multimedia network playback.
Speaker
High quality double horn stereo speaker.
Battery
Li-polymer 3500 mAh, lasting 6 hours
TF card
Supports dual TF card expansion, up to 512GB
Other function
Support built-in WIFI online fighting, HDMI,vibrating motor/Support 3.5mm stereo earphones/
Energy saving setting, Display brightness and other functional properties settings
Box specification
length 21.5cm*width 10.1cm*height 3.5cm
Console specification
length 17.4cm*width  8.1cm*height 2.0cm
I think the quality of the rg353ps is unmatched in this price point!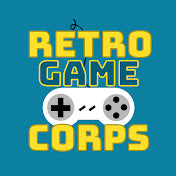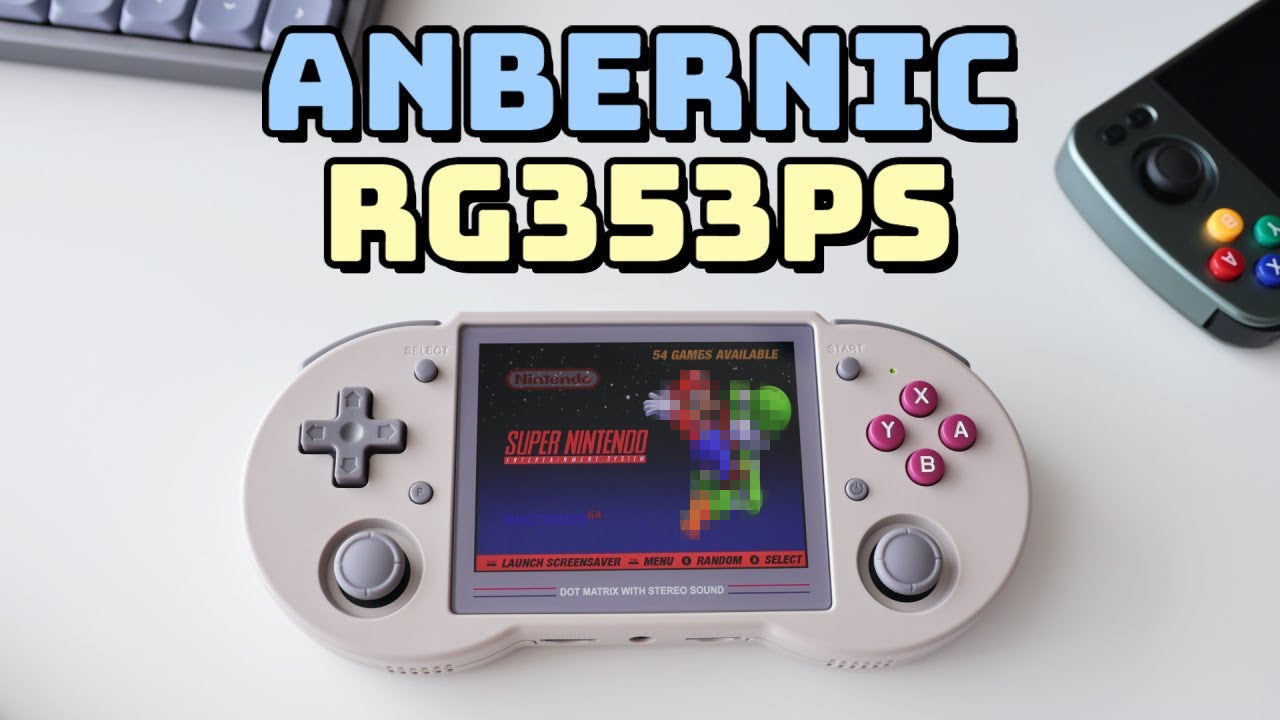 This product is rated 4.9 of 5.0 stars.
It has received 36 reviews.
yo this thing is sick
very happy with my purchase! plays everything up to 5th generation pretty much flawlessly, and even plays some psp and dreamcast games great. of course we've all emulated games before, but the level of polish in the UI and hardware really make this a special experience. it's especially slick if you customize the UI or scrape the video metadata to appear on the menus. i know what my friends and family will be getting for xmas this year. my only criticism is the d-pad is a little flaky, but unless you are playing hardcore fighting games or something it's probably fine for you.
Superb budget retro emulator
I had ordered the RG353PS and the first time I opened the package I was awestruck with the build quality, I have an RG 280v (refer pics for size comparison)as well. The 353ps is a step up from that in every terms the a,b,x,y buttons feel more tactile and not mushy at all while, the control sticks are responsive with no dead zones ,shoulder buttons are not the clicky type but are hinged does not register accidental presses easily , the screen is a beauty to play games in using the 4:3 resolution and the colours are crisp and vivid . I was worried about there being screen light bleed in the transparent version but surprisingly it did not have any such issues!. The battery gives a decent play time of around 5 hours per charge (less if you play higher end console emulators). The improvement points if any could be the battery life and processor, but then again the portability would take a hit if a bigger battery is included. I recommend this device wholly.
Great product but
I wish there were better OS/Firmware available other than ArkOS and JelOS. Love the feeling in the hands and it's really fun to play but I'm certain my old eyes are giving me trouble reading the fine print.
Only grip is the very limited options of good OSes. Not sure why it can't run Android either.
Amazing
I bought this wonderful product. It's amazing and fast. Now I play my old and favorite games on a daily basis in one place its RG353ps ❤️
Great value
It deliver what it promises in a very good pricing in my opinion. A lots of guide out there to get your started easily. Finally I can "test" those games in my younger years I didn't get the chance to try.