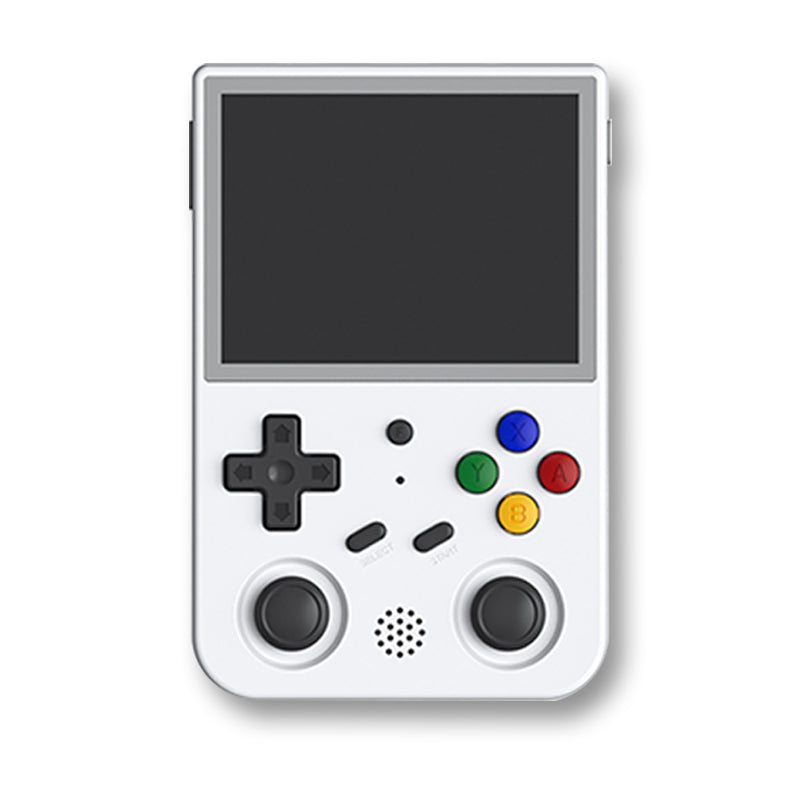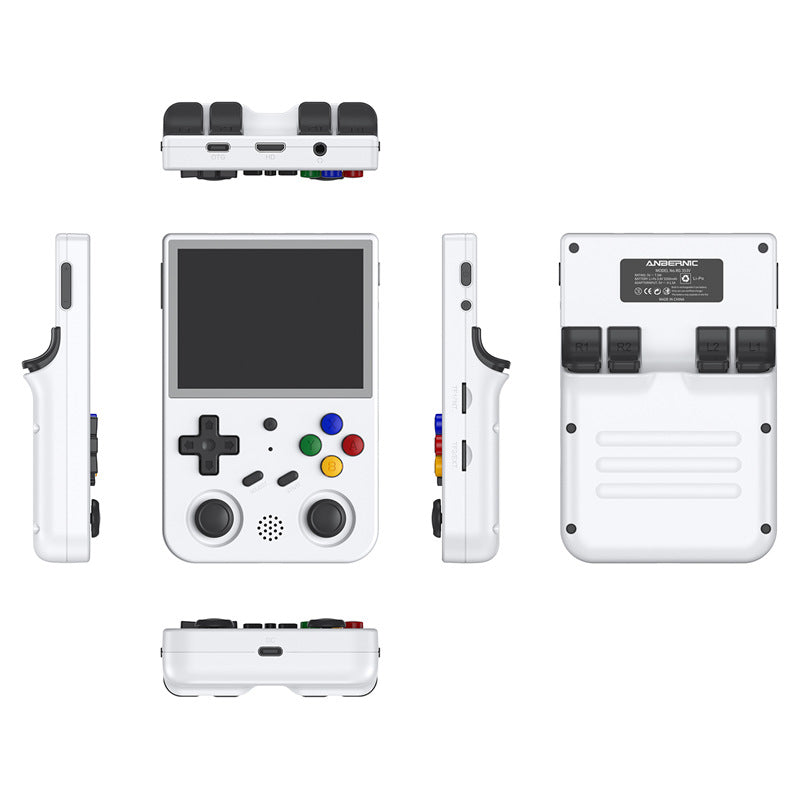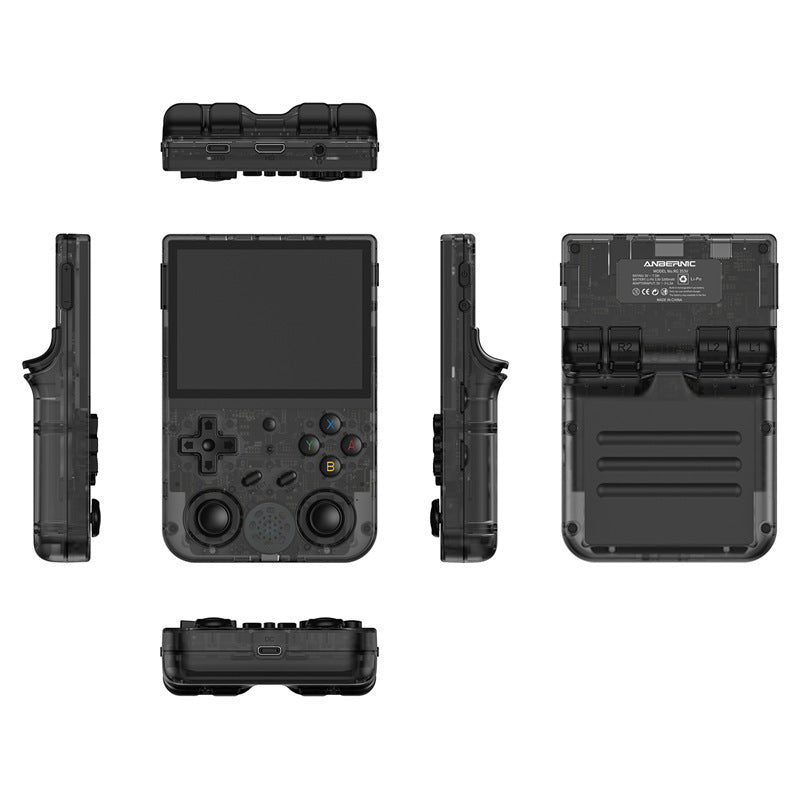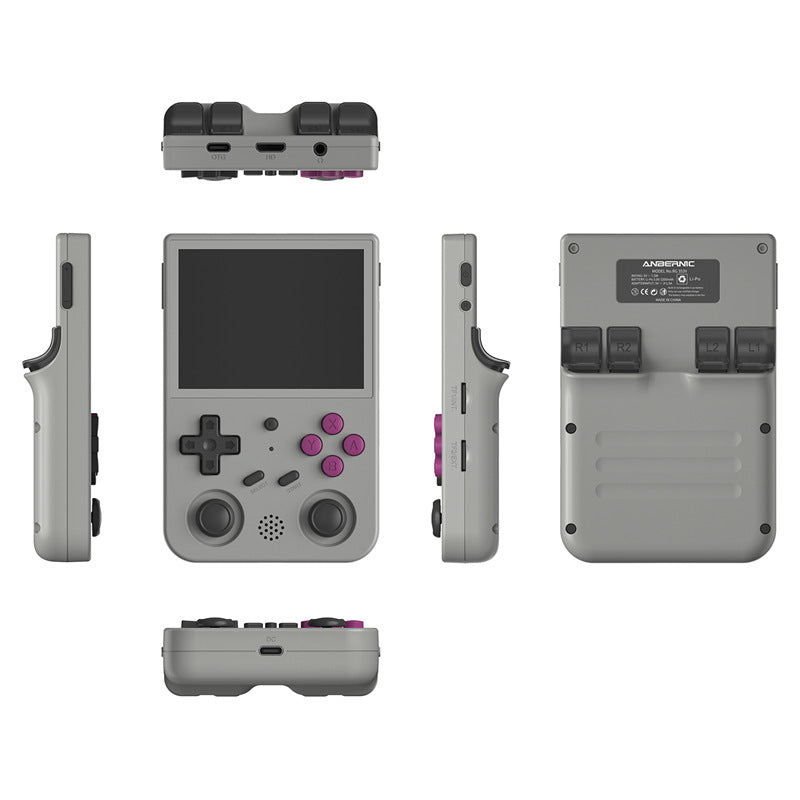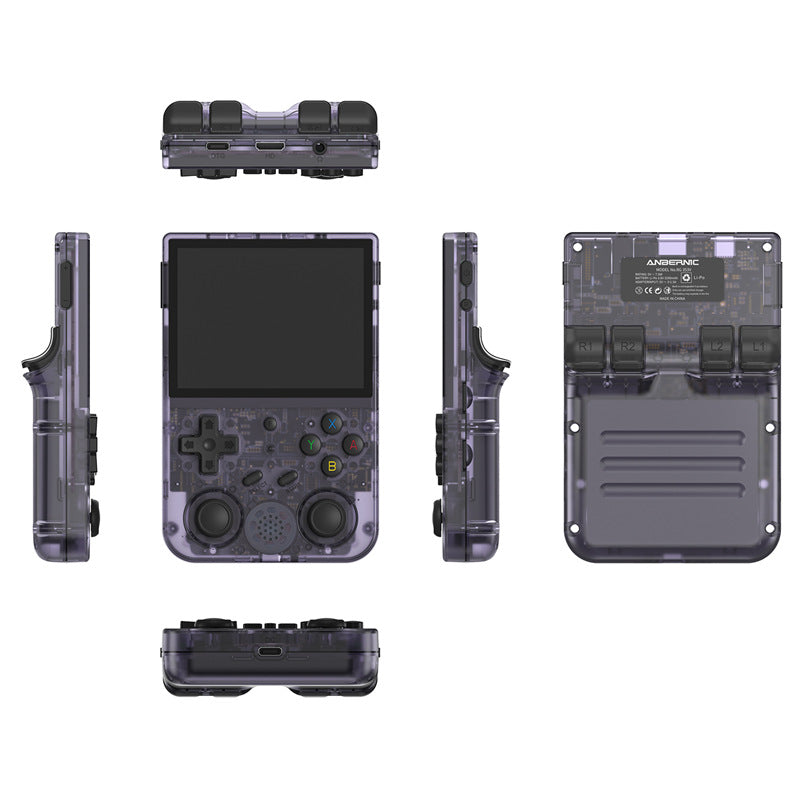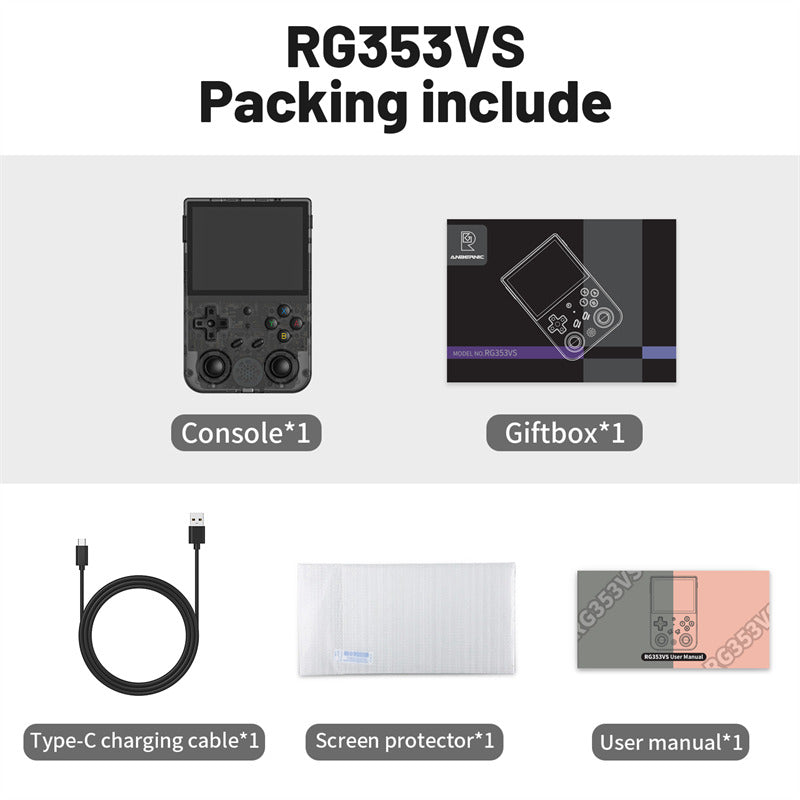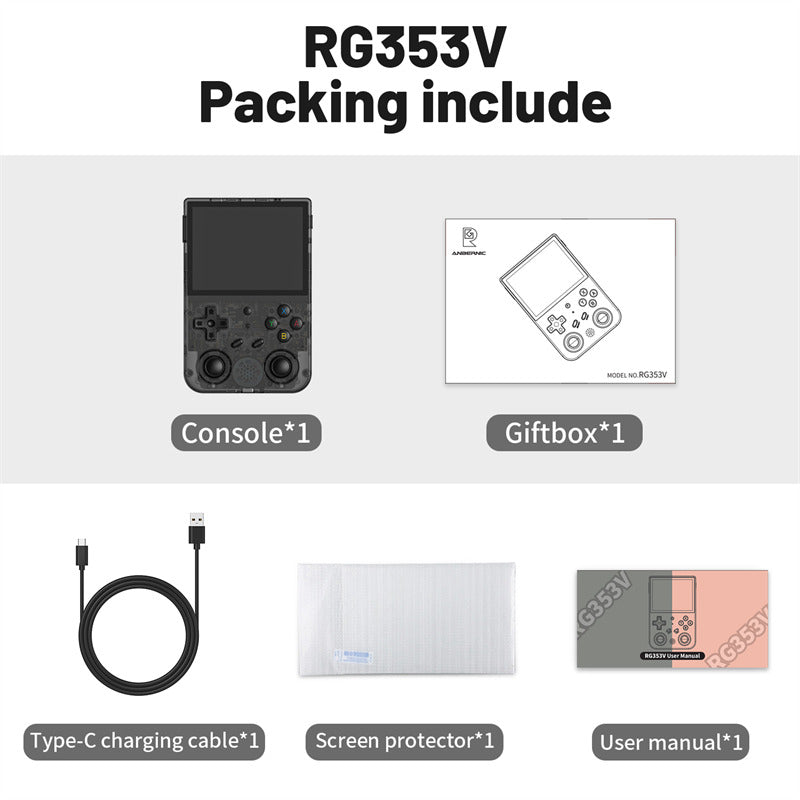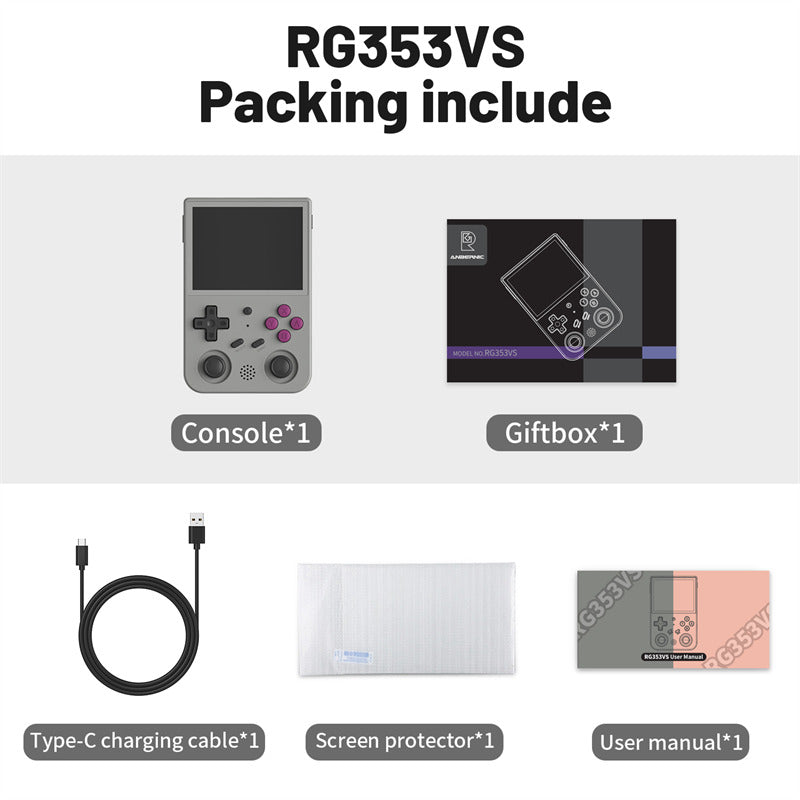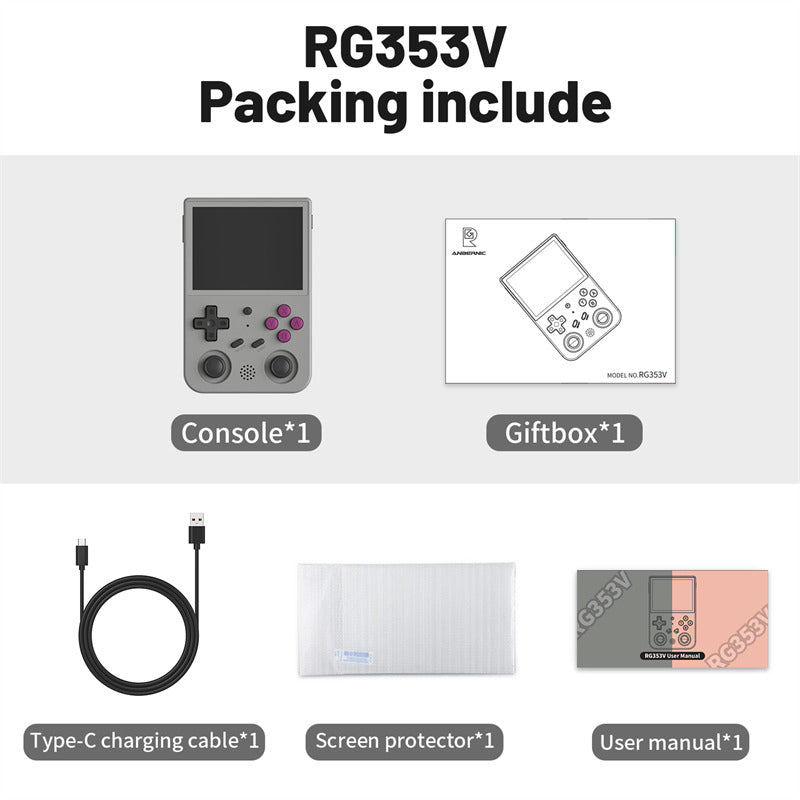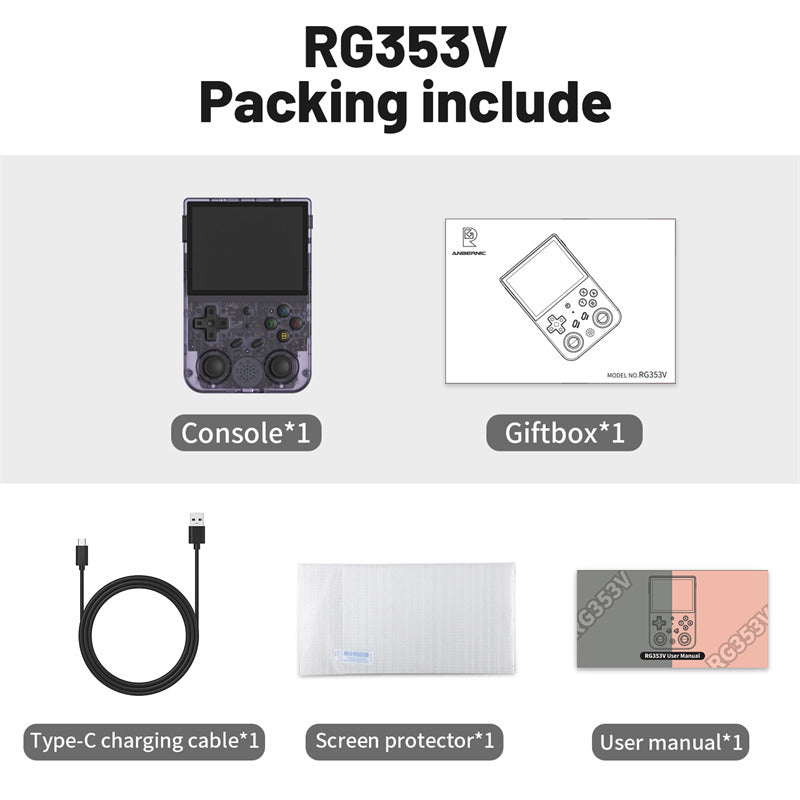 ANBERNIC RG353V/RG353VS
---

TECHNICAL SPECIFICATION
Model

RG353VS

RG353V

Color
Black transparent/ Grey
Black transparent/ Grey/ White/ Purple transparent
System

LINUX(Linux 64 bit system is compatible with 32-bit applications)

Android 11, LINUX(Linux 64 bit system is compatible with 32-bit applications)

Screen
3.5-inch IPS full viewing angle, zero distance OCA full fit/ 640*480
Touch
Screen
No

Multi-touch

CPU

RK3566 Quad-Core 64 

bit 

Cortex-A55, Main frequency up to 1.8GHz

RAM
LPDDR4 1GB

LPDDR4 2GB

Memory
16GB TF

32GB high-speed eMMC 5.1 + 16GB TF

Wifi/
Bluetooth
2.4/5G WIFI 802.11a/b/g/n/ac,Bluetooth 4.2
Games
/

Support: Android games (Honor of Kings, etc.)

Support 20+ kinds of simulator.
 Support users to download games in relevant formats.

Software

LINUX system supports 

wired handle function


Supports multimedia network play

LINUX system supports

 

wired handle function, Android built-in front-end


Supports multimedia network play
Language
Multilanguage
Speaker
Single horn loudspeaker
Battery

Li-polymer 3200 mAh, lasting 6 hours

TF card
Support tf card max to 512GB

SD card

RG353VS:16G (no game) ; 16G+64G (compatible 4393 games) ;




16G+256G (compatible 4293 games);




RG353V:16G (no game) ; 16G+64G (compatible 4403 games) ;




16G+256G (compatible 4303 games)

Other Function

Support bui

lt-in WIFI online fighting, streaming, HDMI, vibrating motor, s

upport 3.5mm stereo earphones,
energy saving setting, display brightness and other functional properties settings
Accessories
USB charging cable, giftbox , user manual, screen protector
Appearance
Exquisite appearance, comfortable feel, let you fondle admiringly
Size
12.6cm*8.3cm*2.1cm
Weight
0.18kg
RG353V

 

VS 

RG353VS
RG353V DETAILS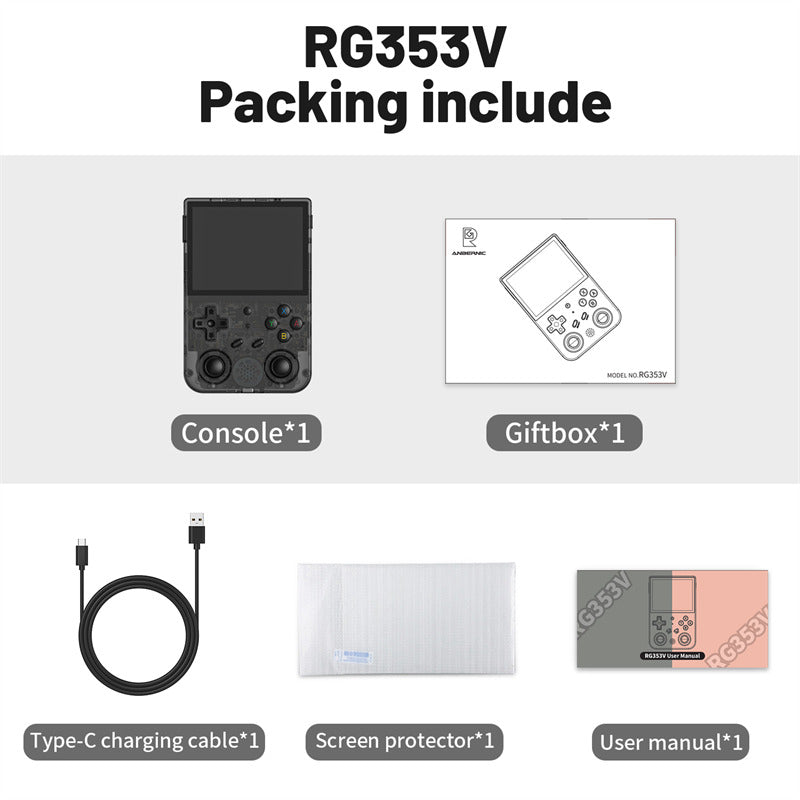 This product is rated 4.8 of 5.0 stars.
It has received 251 reviews.
Game
Love this little machine. So many old games I played when I was little!
RG 353V
Arrived fairly quick, works and plays as expected! Most games run perfect, some slowdowns on more graphic intensive games PS2/N64/GameCube but perfect for most earlier consoles and arcade classics.
Bluetooth controller setup and HDMI setup on the stock OS are somewhat difficult to get working without spending at least 5 minutes on setup Everytime but once it works it's solid. Booting into Android seems to have a lot less issues with HDMI, plug and play like any other HDMI device and Bluetooth controller setup is easy. Bonus that multiple controllers can be connected in both OS's.
Overall definitely worth the money and the included games are a bonus. Playing multiplayer on big screen w my friends and family will be the main selling point for me :)
Not bad
So far I'm enjoying it, however most the video's I've seen advertising this system show Mario, and Pokémon games being played as if they are pre-installed when they are not. Still need to figure out how to download them onto the SD card, but otherwise I think it's a great investment
Excellent device. But I have to baby it.
The device itself is awesome. It plays everything I could want, from NES all the way up into PSP and ps1. I haven't tried Gamecube or PS2 on there, but I somewhat doubt they will perform impressively, as PSP has trouble from time to time. The main problem I have with this device is I have to treat it so gently. Whenever I put it in my pocket, I have to worry about bumping into stuff or it being crushed in my pocket. I worry that the sticks and the rear triggers will be damaged. I've already had a couple times where the triggers got set in a weird way so that they needed to be clicked back into place. And I'm not sure, but it feels like there is something weird going on with my left thumbstick. I love this thing, but I want it to be tougher. I want it to feel tougher. And maybe waterproof or resistant? I know that's a pie in the sky dream, but it would be cool if I could just throw this thing in my pocket and not have to worry about it
Great console.. lacking additional information
Hey hey so the RG353VS is a Amazing handheld. Does everything as advertise, beautiful screen, clicky buttons. All in all very happy with purchase.
A few cons. The console is not ready to go out the box. You wanna play on the tv you'll have to buy a ott HDMI mini, you wanna play with a wireless controller well that's actually not supported. Your gonna need a receiver dongle and a USB to Type C.
Dissatisfied with the amount purchases need to get everything running properly