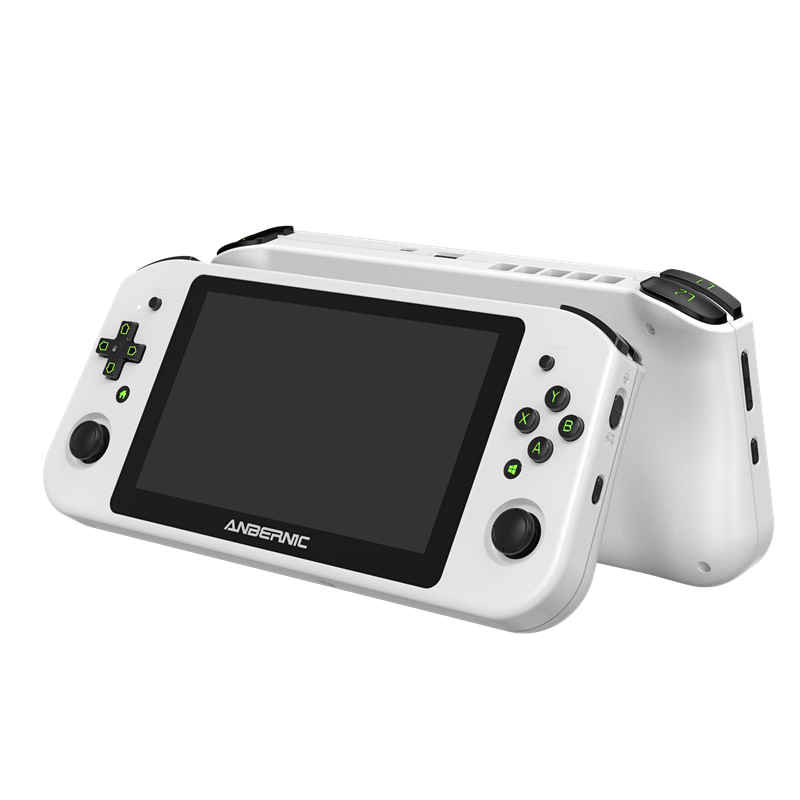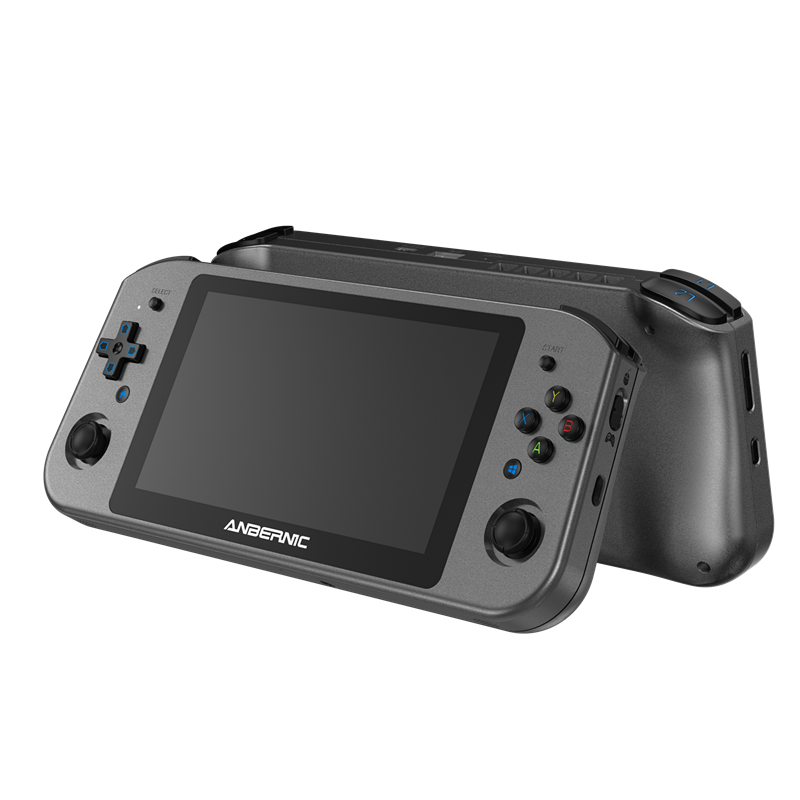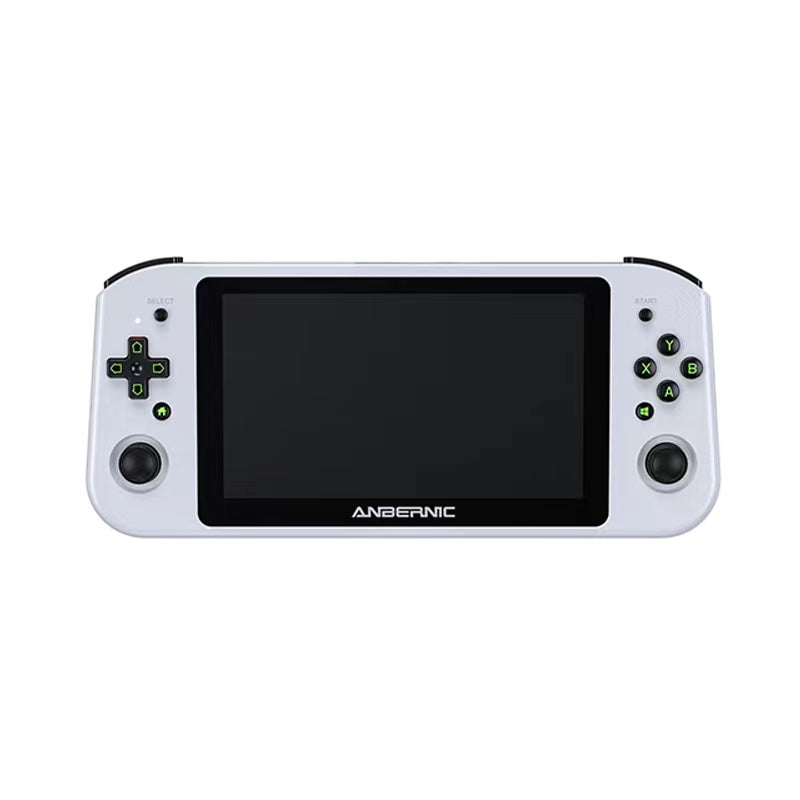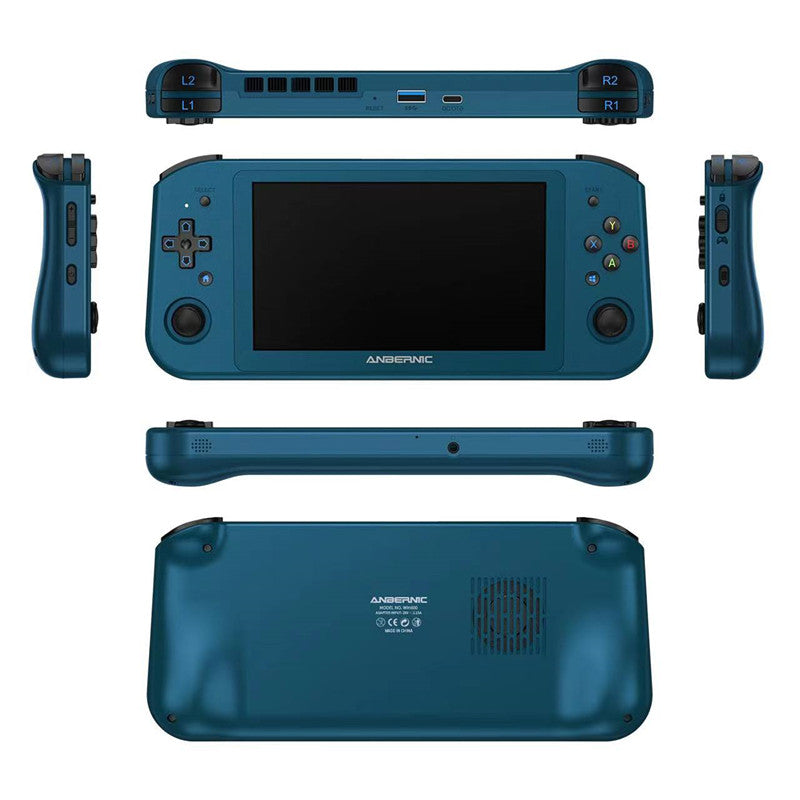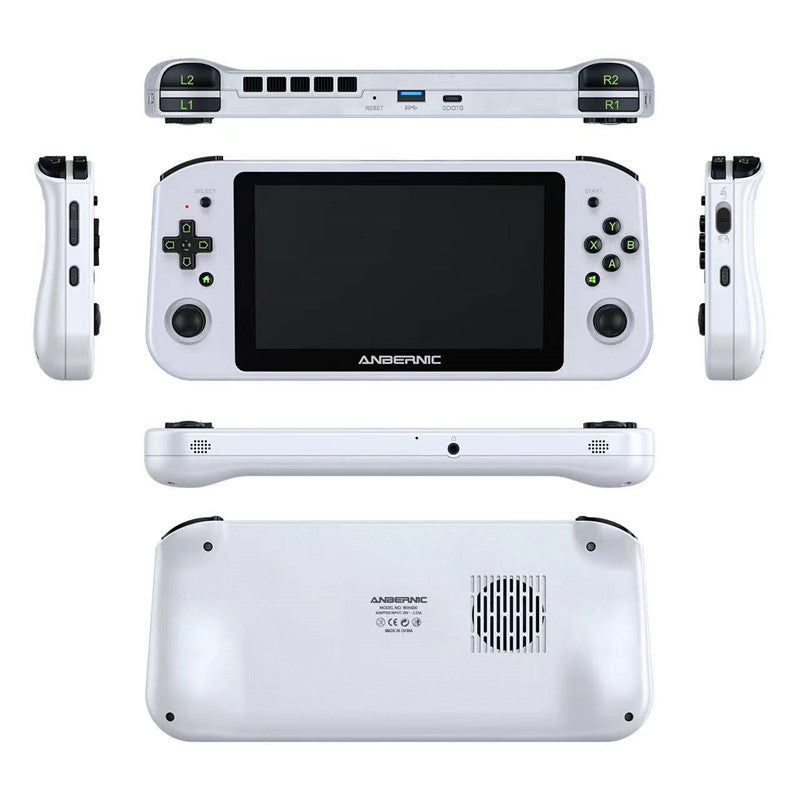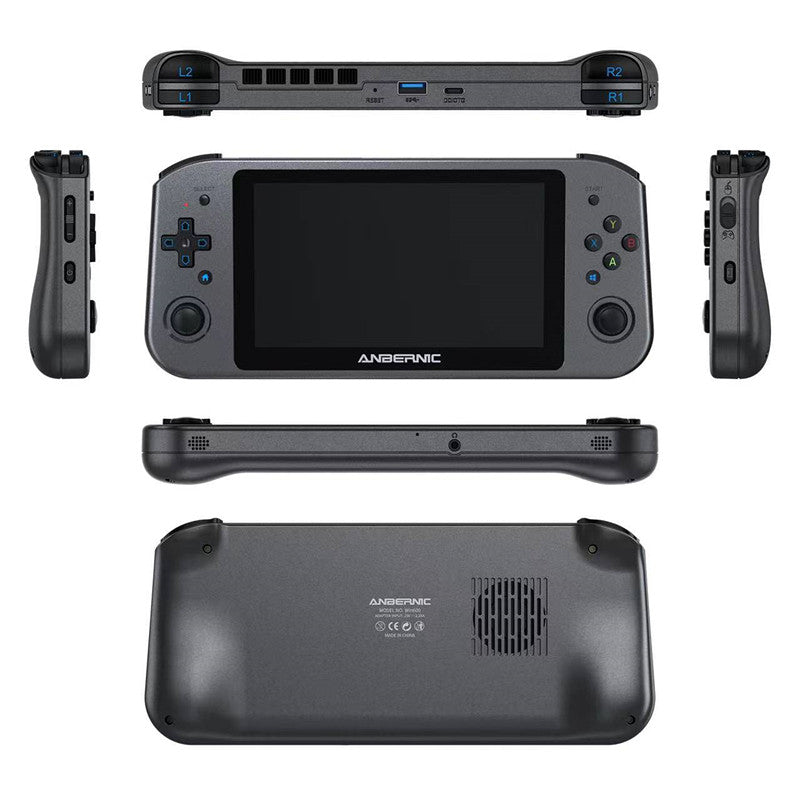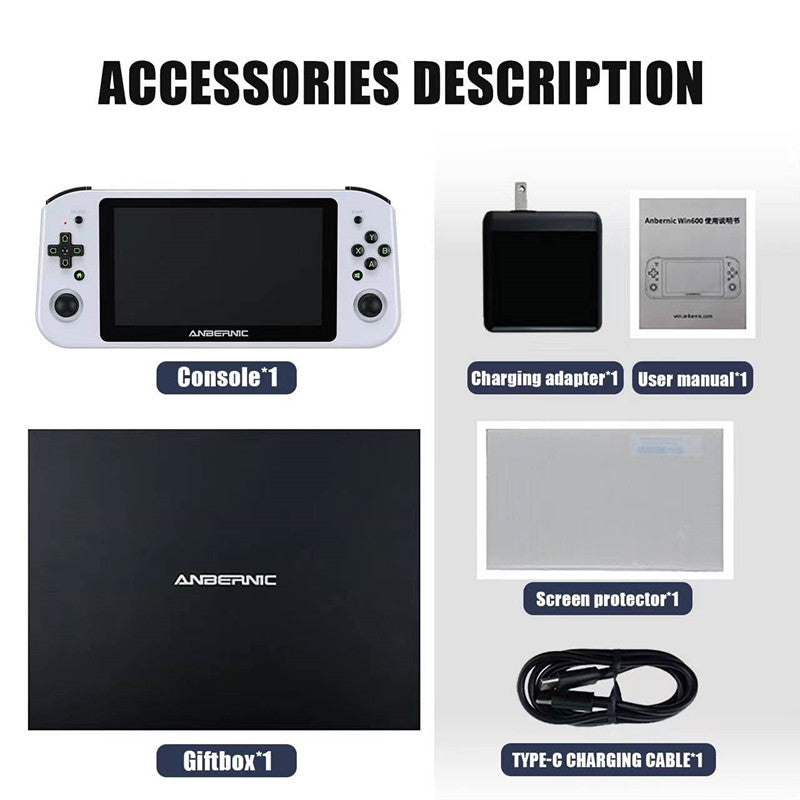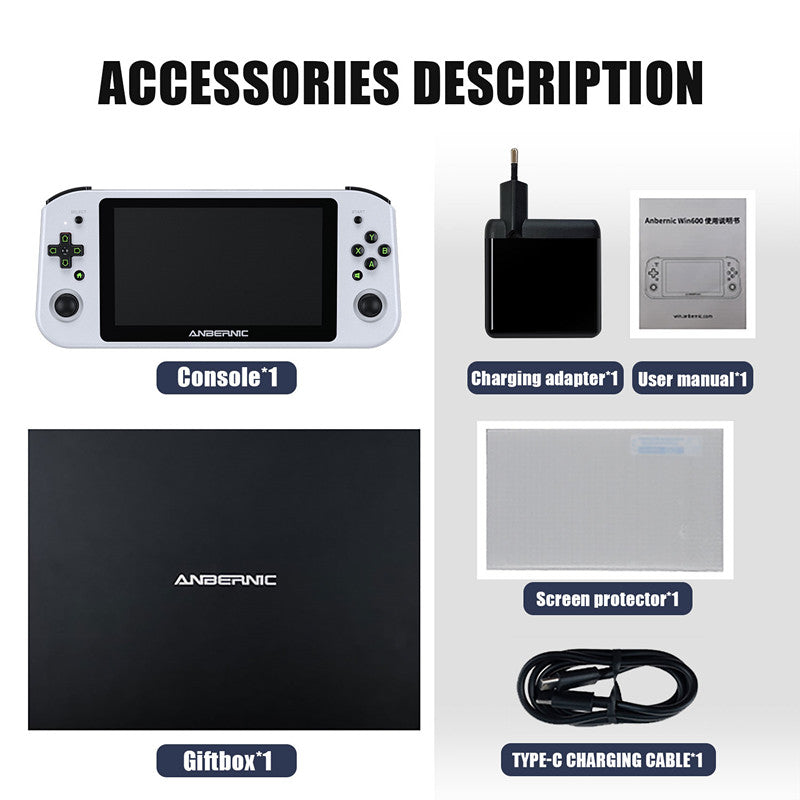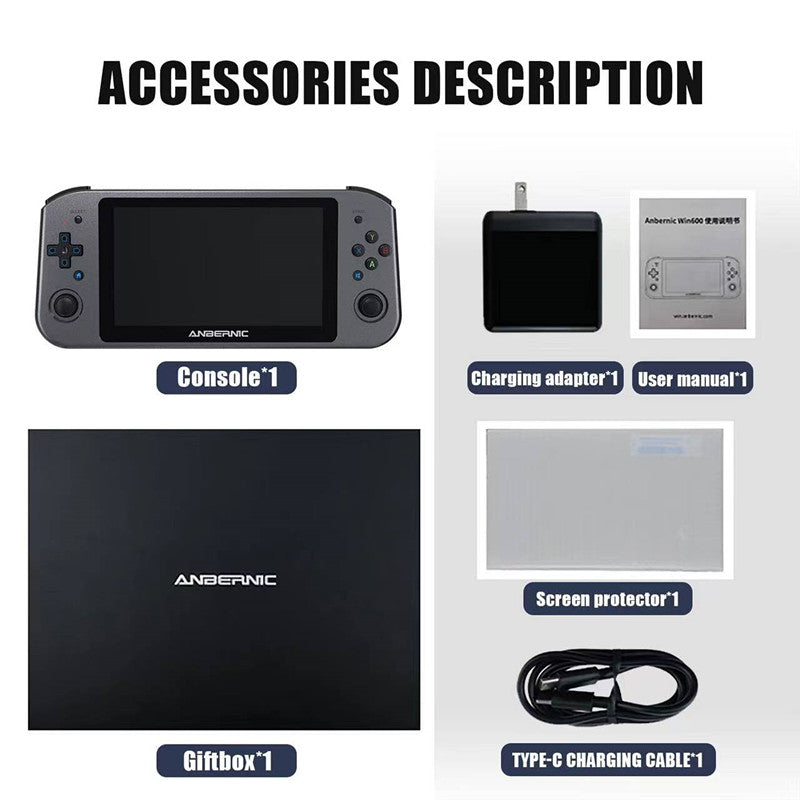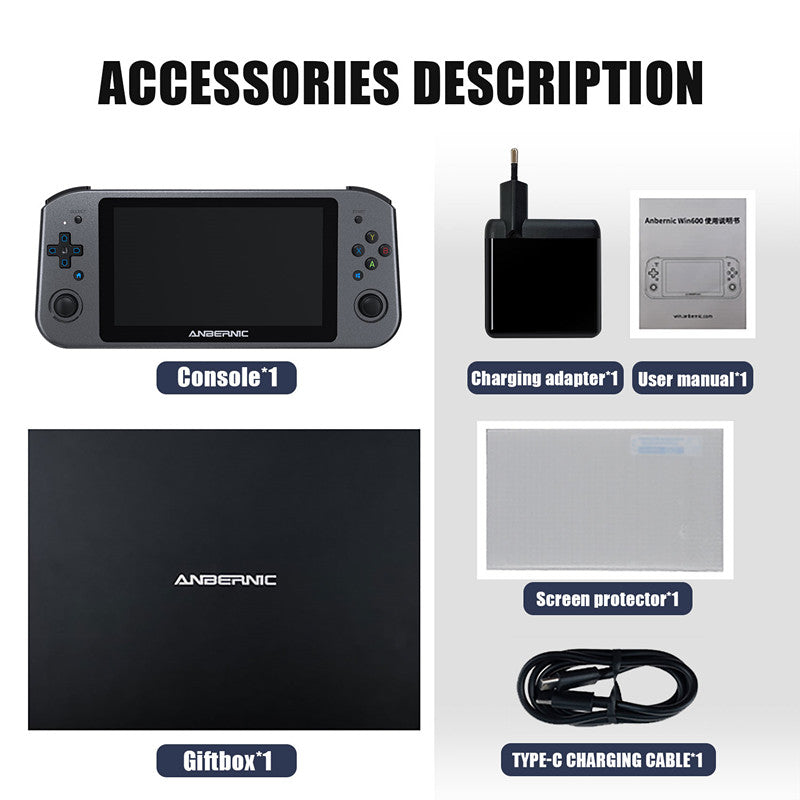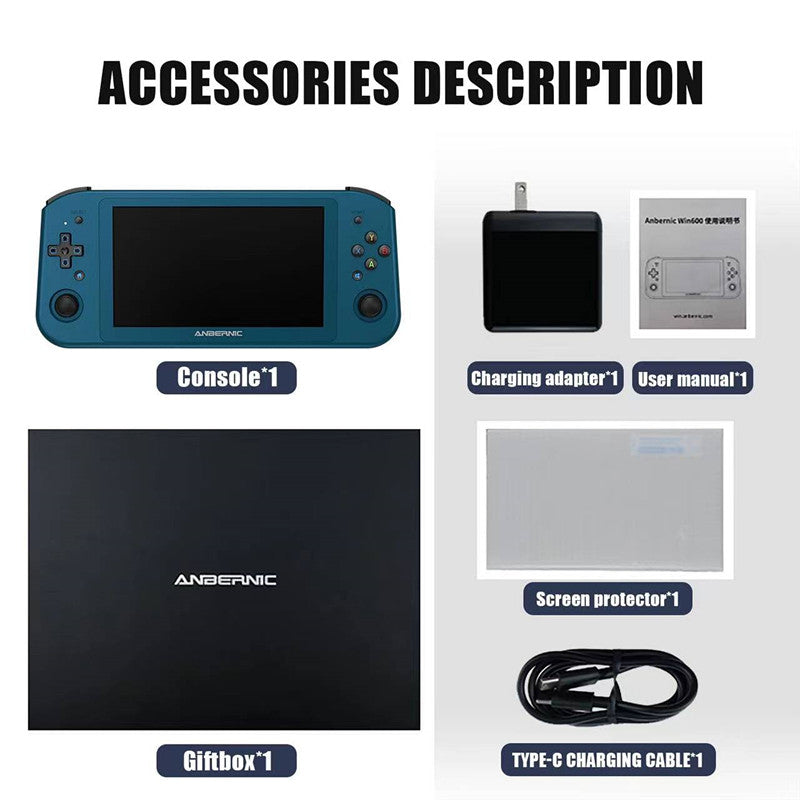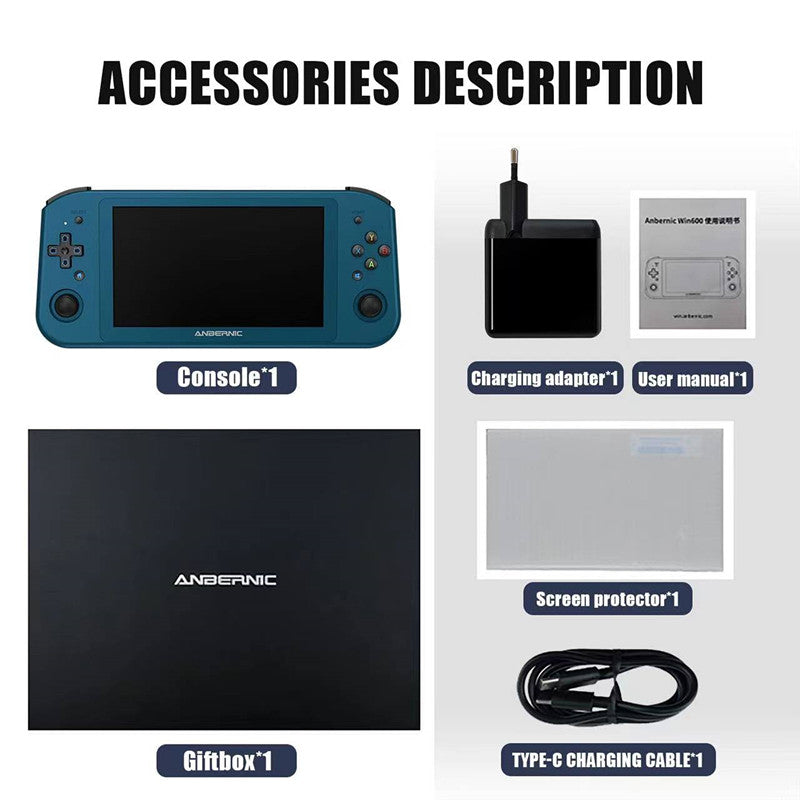 ANBERNIC WIN600
---
WIN600 has been updated to WIN11

Note:
Windows activation:
The first time you start up, you will enter the welcome interface. After the initial configuration, enter the system, and the networking will be automatically activated. If you encounter problems here, you can check if the network is normal and contact us.

Win600 SPECIFICATION

* Supported 20+game platforms: 
Support users to download games, support vibration motor
* Support 3.5mm stereo headset
* Full function Type C: 1*USB3.1+USB2.0+Display port Display output +HDMI Display output +PD3.0 quick charge
* 3.0 USB-A :1 x USB3.1 transmission rate 10Gb/s
* Music Function Support music APE, MP3, WMA, OGG, APE, FLAC, WAV, AAC (including AAC-LC, AAC HE, AAC+V1/V2) and other full format audio

- 3020e black:
CPU: AMD Athlon Silver 3020e Dali APU up to 2.6GHz
Hard Disk(replaceable):128GB M.2 SATA 2242 SSD

- 3050e black/white:
CPU:AMD Athlon Silver 3050e Dali APU up to 2.8GHz
Hard Disk(replaceable):256GB M.2 SATA 2242 SSD
GPU:AMD Radeon RX Vega 3
Memory(replaceable):8G DDR4 frequency: 2400MHz

- 3050e blue:
CPU:AMD Athlon Silver 3050e Dali APU up to 2.8GHz
Hard Disk(replaceable):1TB M.2 SATA 2242 SSD
GPU:AMD Radeon RX Vega 3
Memory(replaceable):16G DDR4 frequency: 3200MHz

- Screen:5.94 inches OCA full lamination IPS screen,10 points touch
distinguishability:1280*720
- System:Preset Windows10 home edition, support steam OS
- Language:multi-language
- E-book function:Support
- Wifi Bluetooth function:WIFI5/Bluetooth 4.2
- Speaker:High quality double horn stereo speaker
- Battery:Super capacity high density Li-polymer battery 8.7V==4500mAh*2 series, 2-5 hours of battery life
- Console Size:23.6CM*10.3CM* 2.2CM
- Console Weight:0.49KG



3020e BLACK

3050e BLACK/WHITE
3050e BLUE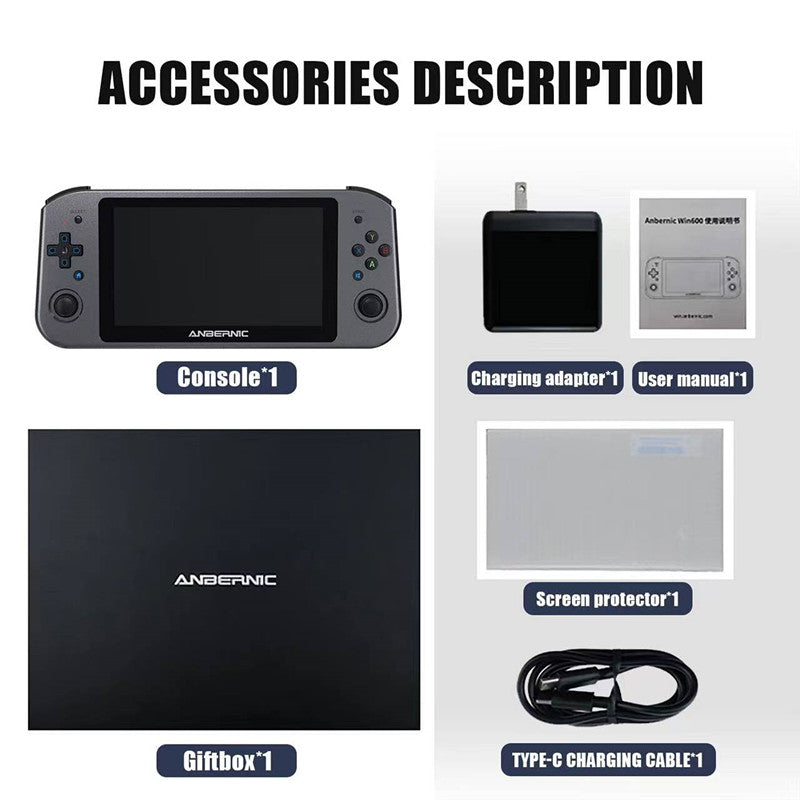 This product is rated 4.8 of 5.0 stars.
It has received 45 reviews.
Not a bad steam deck.
It's not actually an emulation device. It's more of a steam deck with windows installed. That means it's also a PC. Keep that in mind but all in all I like it
Pretty good
Shipping from purchase date to receiving order was a total of 21 days to AUS.
To those in AUS at the time of my purchase I paid a total of AUD $563 for the 3050e 8/256GB version.
Came well packaged,no problems.
Anbernic have also been pretty quick to reply to messages,compared to other sellers out there.
First I gotta say I did not buy or test this for windows or steam,its purely for Batocera.
However I still need to test Jelos.
But Ive been testing Batocera via the USB port currently but I plan to buy a 1 or 2TB SSD for it soon and run Batocera internally.
Screen quality is very nice. Sound through its speakers is loud enough but very little bass though.
This is a very good device for dpad gaming,as many yt video reviews will show you but if you plan to use the analogs a lot,namely the left one then yeah,its defo a little small and low for this device.However I have purchased some jotstick risers which increase the height a little so when you need to use the left stick and shoulder buttons at same time,it does help a little.
But all the buttons feel nice otherwise.
Cant properly comment on battery life using Batocera as Ive been only been testing on and off but depending on what system you are playing it would be fair to say between 2 and 3 hours,as video reviews would have also mentioned. But my hope is with Batocera battery life may be a little longer,not tested properly as yet though.
But that probably is the biggest negative of this device,battery life then the left stick position.
Performance though was good,you should be able to play almost all gamecube games bar a handful,and the majority as 2x as well (upscaled to the 720P of the screen)
xbox runs well as also,not everything but you should be able to play a large amount,some at 1x and some at 2x.
PS2 as well,a ton of games work,again,a mixture of 1x and 2x. Even God of War 1 and 2 at 1x runs at 60fps or close to,if you apply certain speed hacks to these games.
AGAIN,this was emulation testing was through Batocera OS.
So overall Im happy with it and what I want it for.
I cant comment on how it is with windows or steam gaming.
But I think if they ever made a battery upgrade for this it would be well worth it.
Thanks for reading.
Nice price, Nice use
Since the BIOS is Windows You can mostly do whatever u want in the device. I can run most of my Steam games, obviously not the last gen ones: with Crash n sane trilogy i got Fps troubles, but i guess is understandable. Retroarch runs emulated Games amazingly, i've tried Gamecube/PS2 gen without any problem.
On the otherhand, the buttoms are not what i expected, i imagined them more comfortable, but not bad after all, they cumply their function.
The battery, as most people Say, doesn't last for long; 2:30 hours of continous playing, but thats not a problem if u have a external battery of something to charge out the Anbernic, and this is pretty easy since You can charge the device with an universal Mobile type c cable.
I rate it 4.5 out of 5, considerating its price is actually cheap for what u are getting for. Good work.
Great Device
Win 600 it's a great product, extremely well done and handful to be used anywhere.
The only con is the battery that has a short span.
Amazing Handheld!
I have purchased the 16GB 1TB model.
I have purchased this mainly for retro gaming but this handheld is capable of running "almost" modern games also.
I have installed almost a half of my GOG library and everything works perfectly.
The switch between mouse and gamepad on the side of the console is brilliant.
I can confirm that this handheld runs games like Fallout New Vegas, Oblivion and Daggerfall Unity with no lag and on max settings.
Using the handheld is very easy and it is basically a small PC but in a handheld version.
Installations of games ETC. Is simple as it is windows.
Performance is amazing and it is very silent.
I have played Project Zomboid on the WIN 600 and the battery life was around 3 hours.
Game has hundreds of zombies displayers on screen and WIN 600 didn't care and was running super smoothly!!!
Pairing gamepads and keyboard+mouse works perfectly and I managed to play gems like Quake 3, Arma and silent hunter 2 with no issues.
Please make a docking station (small and portable if possible) for this console!! This would be a perfect addition for this little device.
Thank You very much Anbernic Team!!