ANBERNIC RG351P
---
Things to know before buying:
1. RG351P can't support HDMI function.
2.There will be a little noise when connecting to WiFi or this happens when power-on.
3.Do not take out the TF card when the console is powered on.The console system file may be lost.Causes the console to not play again,or causes some game files to be lost and some games to not play.
4.WiFi can only be used when two people match the game. When you don't need to use WiFi, please turn off WiFi. (The game can only be matched in the same LAN)
5.Please note that RG351P can only use 5V1A charger, if you use high-power charger, the game will be short-circuited. Cannot continue to use. This situation is out of warranty.
| | |
| --- | --- |
| Color | Black/Purple/White |
| S Screen | 3.5 inch IPS screen, OCA  full lamination/ 320*480 |
| CPU | RK3326 quad core 1.5 GHz |
| GPU | Mali-G31 MP2 |
| RAM | DDR3L   1GB |
| Memory | 64G(Built-in 64G,Compatible 2400+ Games) |
| System | Open source Linux system |
| Games | With vibrating motor ,and perfectly support: PSP.PS1,.NDS,N64.DC、CPS1、CPS2、FBA、NEOGEO、NEOGEO POCKET、GBA、GBC、GB、SFC、FC、MD、SMS、GG、MSX、PCE、WSC、transplant games etc 20 kinds of games format. Support users to download the relevant format of the game. |
| Language | multiple languages |
| Speaker | High quality double horn stereo speaker |
| Battery | Li-polymer 3500 mAh, lasting 8 hours. |
| TF card | Support tf card max to 256GB |
| Charging | 1.3A charging/ matching maximum load 2A/ USB charging cable/ 4 hours full charge |
| Power Dissipation | The highest power consumption is 450mA, and the power consumption in shutdown state is 16uA |
| Other function | Online play/ Double OTG/ Double 3D rocker/ Support 3.5mm stereo earphones. |
| Accessories | USB charging cable, giftbox , user manual |
| Appearance | Exquisite appearance, comfortable feel, let you fondle admiringly |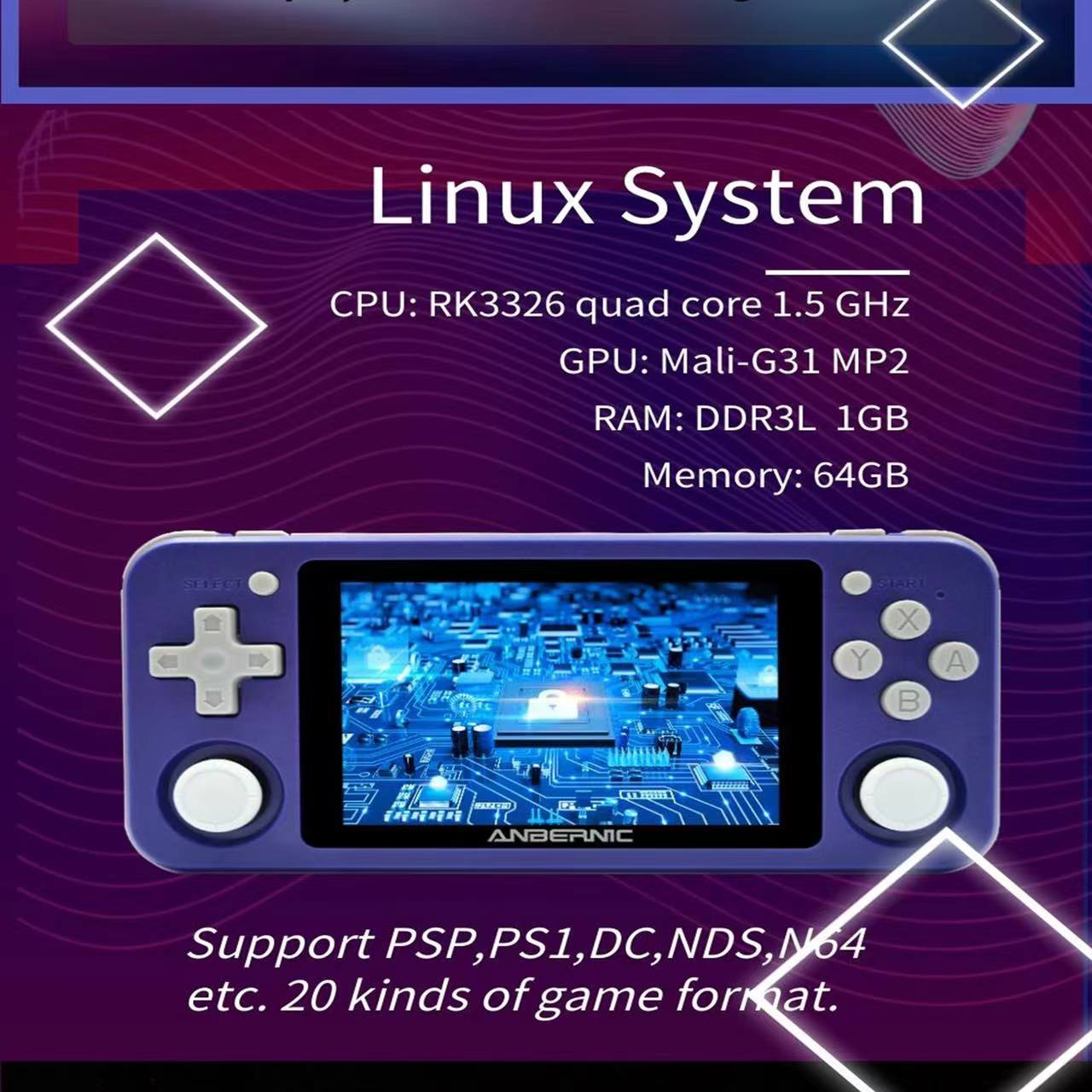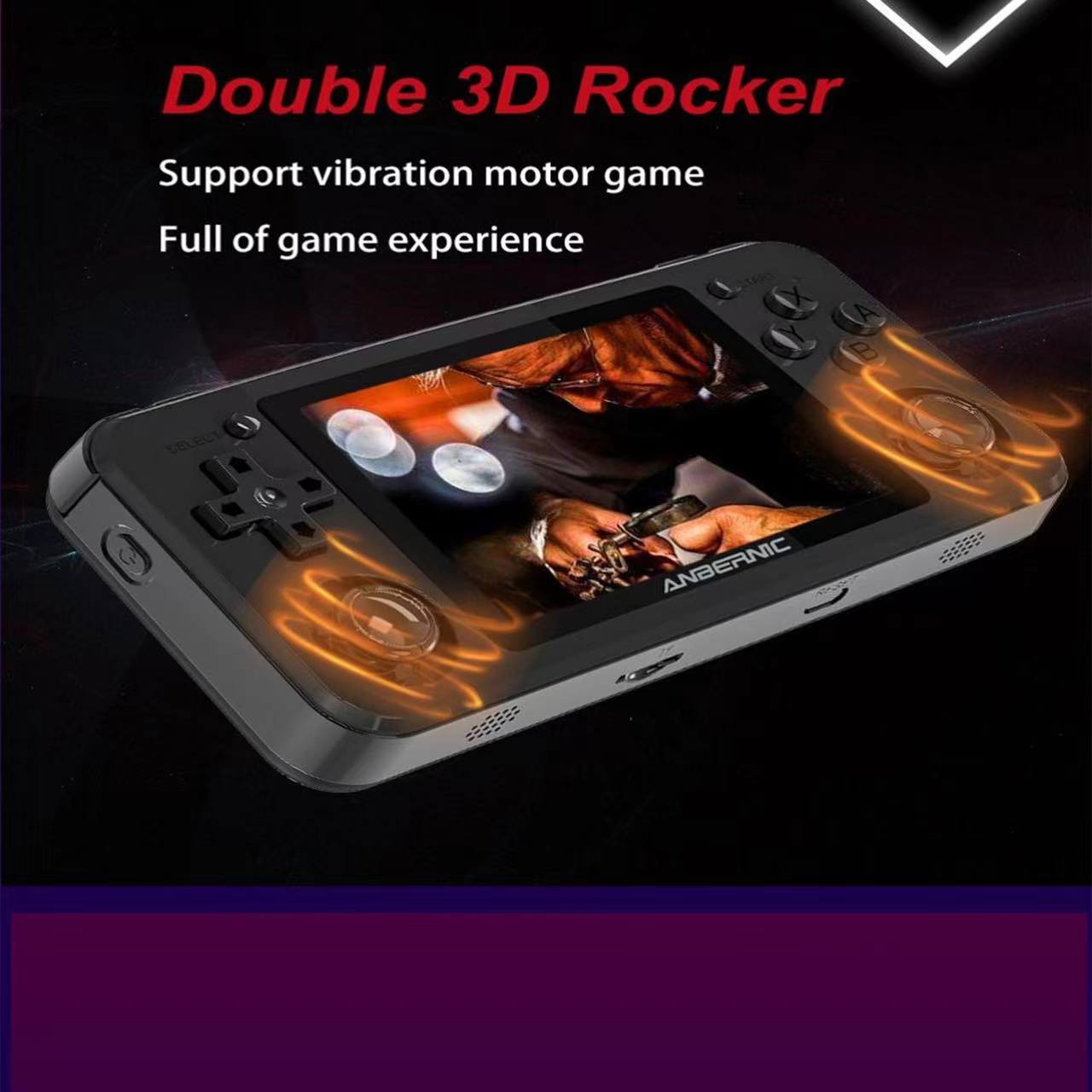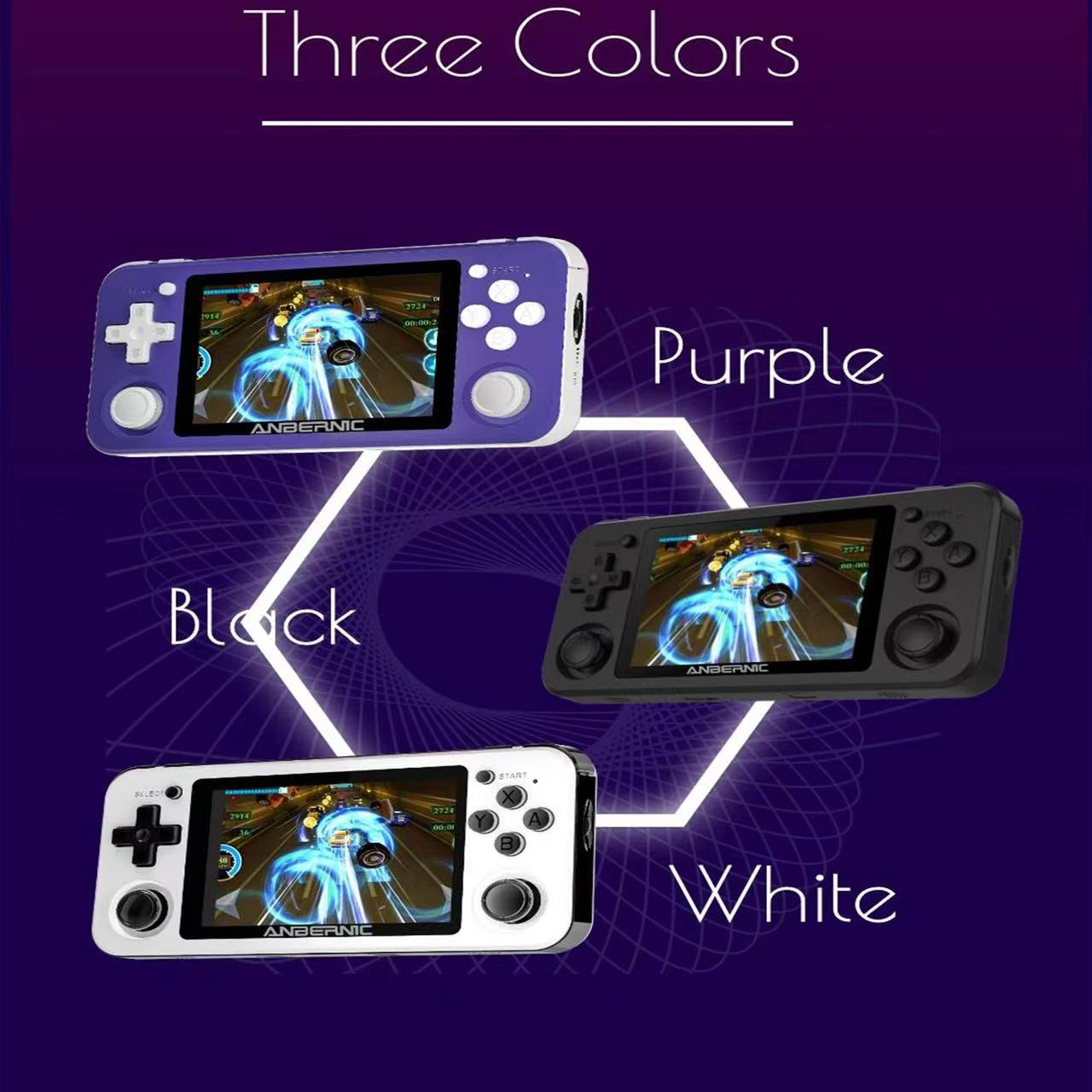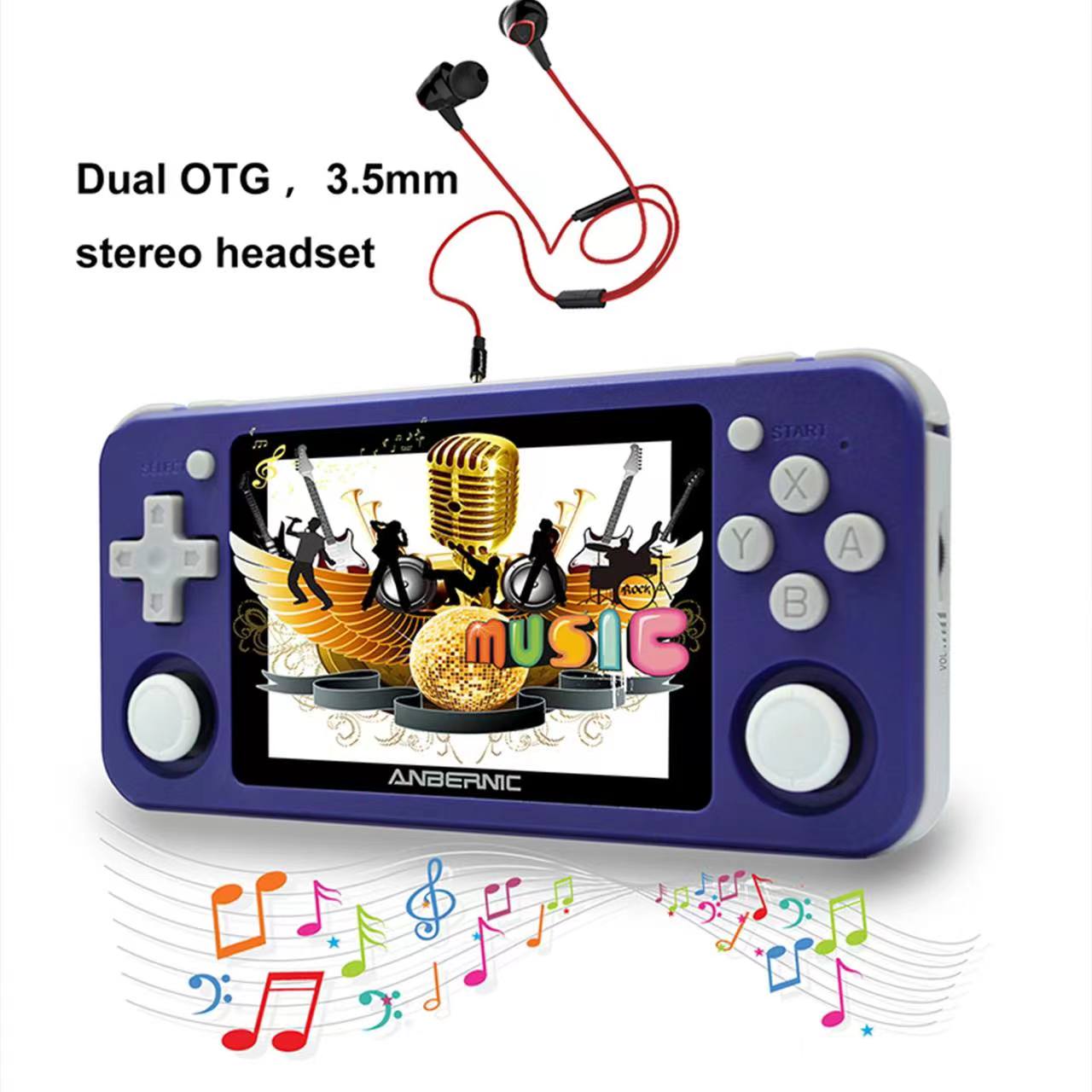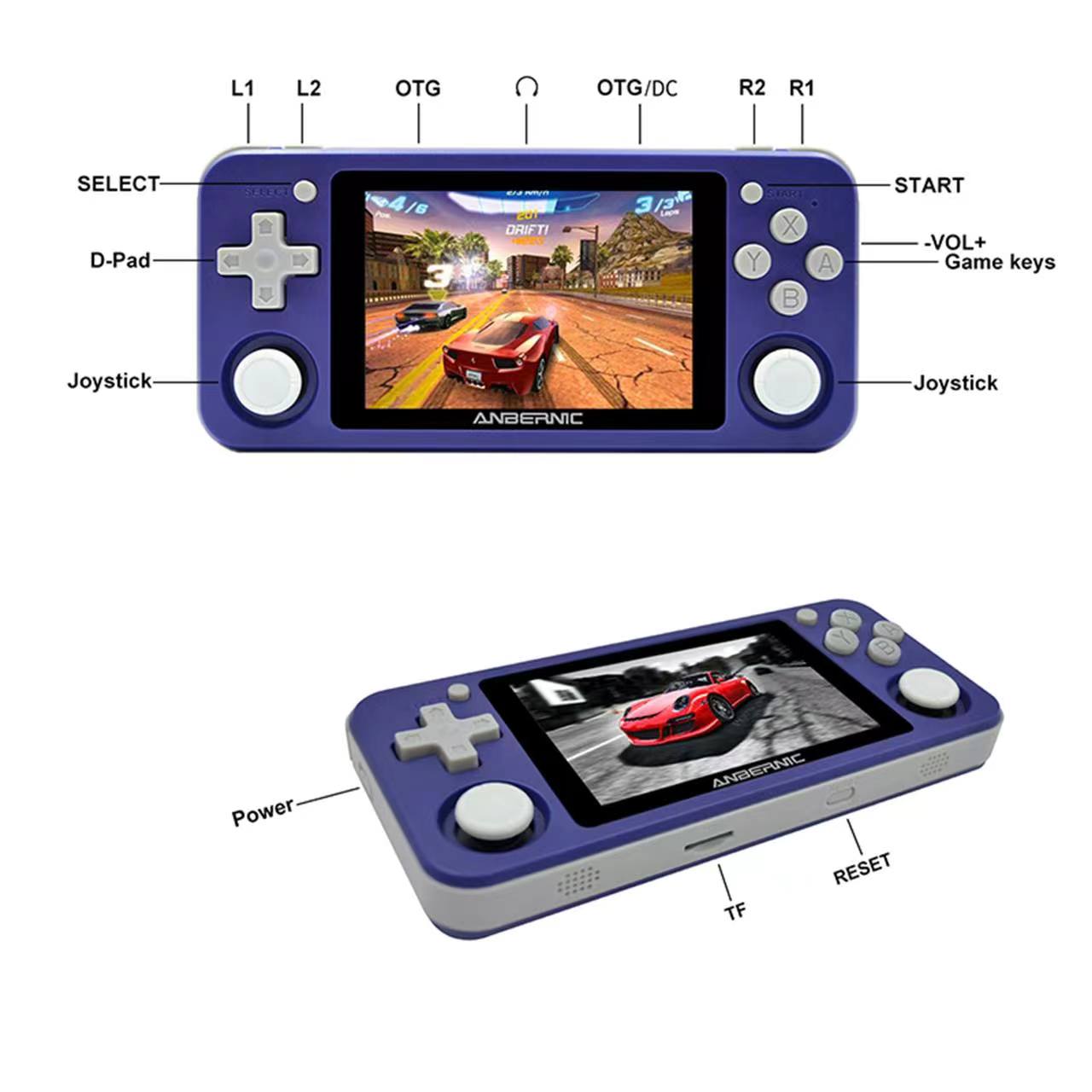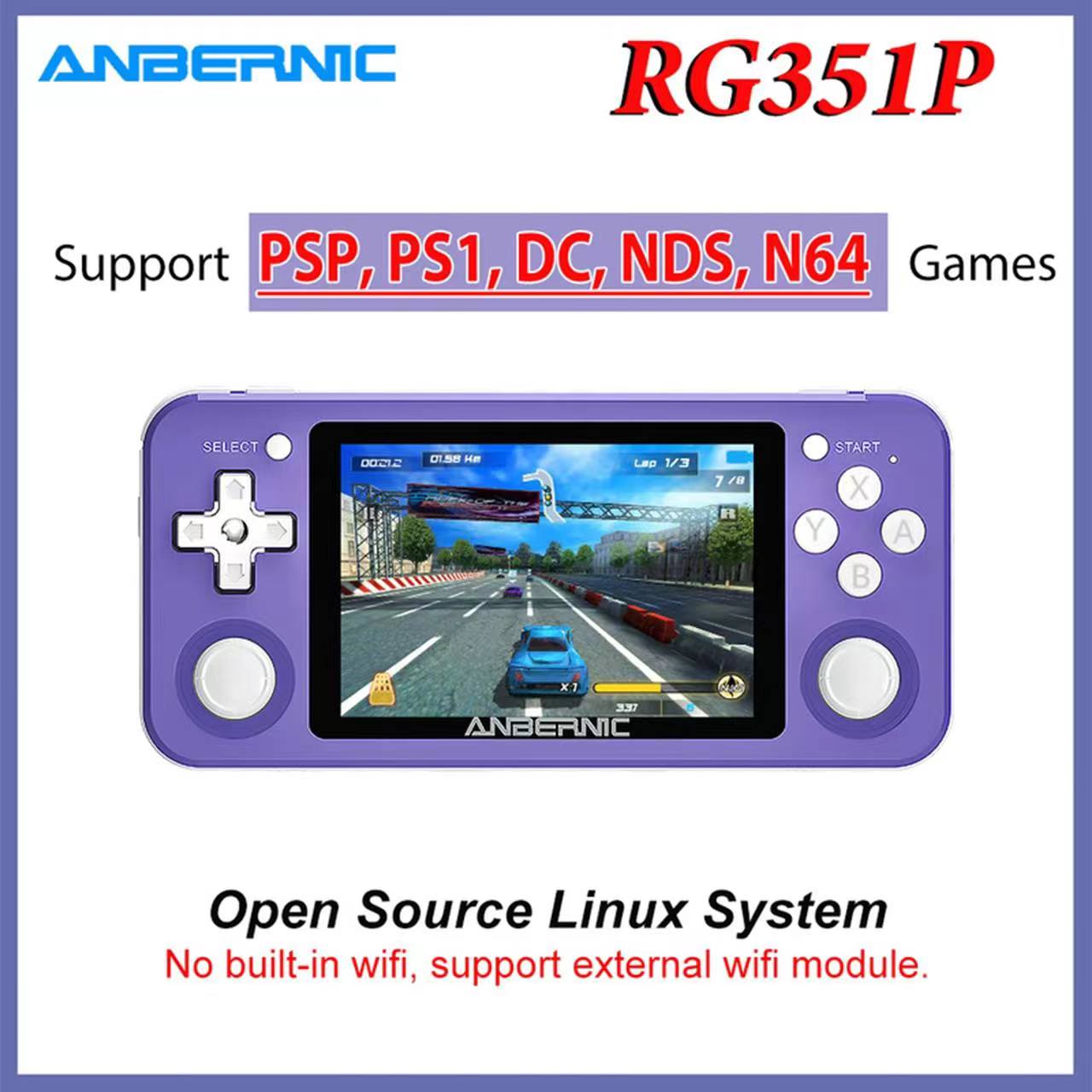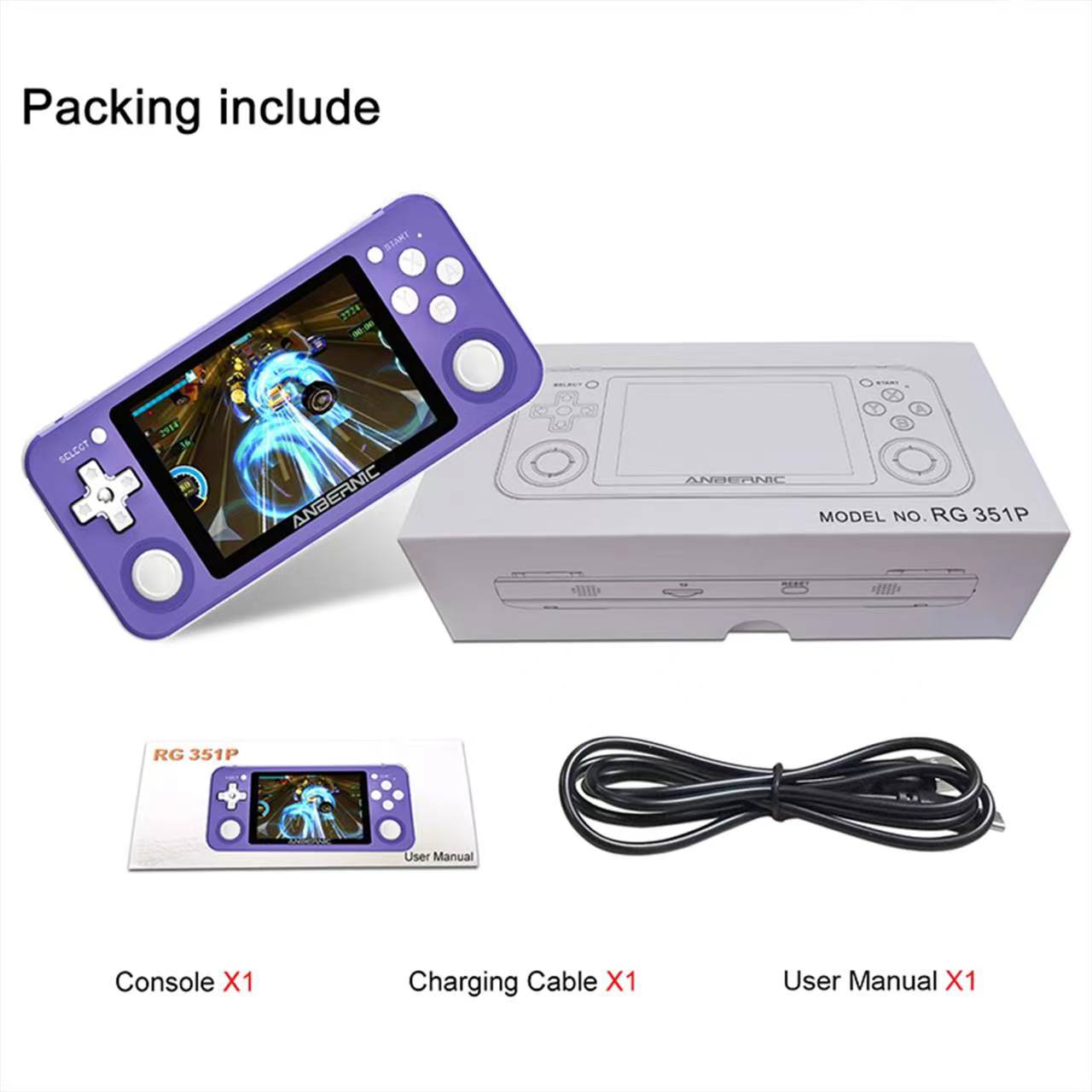 This product is rated 4.9 of 5.0 stars.
It has received 84 reviews.
Great for GBA especially
Perfect screen for emulating Gameboy Advance Games. Highly recommend this device if you are looking to emulate handheld games. The build quality is great, you will not find a better price for this level of user friendliness and performance.
Great Device at a Great Price
The device itself is awesome. The feel of the buttons and screen quality are fantastic and it works very well out of the box with little to no config required. I did notice some performance issues one the one N64 game I briefly tested, so this might not be the right device if you're interested in newer generations of games. Works perfect for GB/GBA titles for sure and I haven't tested much else. Mine came with everything required, so really great value for what you get. I would highly recommend. Only negative I have to say is that the instructions that come with the device could be better, but since the internet exists, you can find all the info you need there.
Great little device
Even though it was released two years ago, this is a great starter into the Anbernic Universe. I love me ne and even though I'd love to have wifi build in for the PICO8 splore, I am more then happy with every detail. It's a nice device with a huge board of emulation machines and now xomes with emuelec preinstalled. I switched to ArkOS anyway, but that is is just my preference.
Pretty good so far love it
Started to get stick drift on the left one but it's minor so it's ok
First Device
Using this an an entry point into the small handhelds market, this device has exceeded my expectations and has me already wondering what else do I want to get in the future. 100% recommended.
Primary use case for GBA as that is why I purchased this device in particular, I would while heartedly agree with everyone else's recommendation on the device.